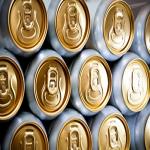 Craft Beer Producers Have Choices
Craft beer has been one of the hottest fields for entrepreneurs in recent years. This is a product that can say a lot about your identity, via the ingredients you choose and packaging you employ, yet still reach a mass audience. If brewing is your profession, you have a series of important decisions to make, including whether to ship your beverages out in glass bottles or aluminum cans.
While making that choice, you can set your mind at ease on one point: No matter which of those options you choose, Lightning Labels is your partner of choice. Lightning Labels offers the ability to print custom beer bottle labels or beer can labels. Opting for labels rather than pre-printed aluminum cans is a way to keep minimum-order sizes low, an absolute money-saver for craft beer brands that don't have the resources available to national macro-breweries.
Bottle Labels? Can Labels? Both?
Bringing your beer brand to the masses means using your labeling as a kind of advertisement. Customers choosing between your products and others, both from local breweries and the massive multinational corporations, will get to judge all of those brands side by side. Will your items' look stack up effectively?
Fortunately, Lightning Labels can help you make that great impression, with high-quality imagery printed on a variety of materials. You gain access to this difference-making visual appeal whether your beer comes in bottles or cans. You can therefore make the choice between custom beer can labels and beer bottle labels safe in the knowledge that Lightning Labels will have an offering to support your selection.
Labels for Bottles: Beer bottles accept a number of labeling styles. You can go for die-cut labels that show off more of the color and shape of your bottle, or larger labels that wrap exciting imagery all the way around. There are many different materials on offer from Lightning Labels, meaning that whether your brand has a hand-crafted and earthy appeal or is slick and futuristic, there's a great choice out there for you.
Labels for Cans: When you want to preserve the flavor of your brew and give consumers the option of buying beer in a convenient and easily recyclable package, aluminum cans have your back. While pre-printed cans' minimum order sizes may prove too large for your brewery, you can opt for custom beer can labels from Lightning Labels, turning generic cans into bright representatives of your brand.
Express Your Brand's Identity
Whether you choose bottles, cans or a combination of both, Lightning Labels can help you express what your beer brand stands for. Your philosophy, regional pride or unique flavor fixations make for great copy, and you can take advantage of Lightning Labels' high-quality, all-digital processes to print this information in compelling and legible text on your bottle or can labels, alongside all legally required disclosures and warnings.
In a competitive and popular space such as the world of craft brewing, there is no room to look bland or boring. Consumers are willing to try new brands, but how will they choose? If you make your labels as bold as possible, it's a canny form of advertising. Lightning Labels can help you accomplish this task.
Request your FREE instant quote today.