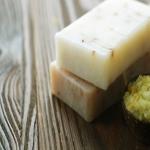 Handcrafted Soaps Deserve Beautiful Packaging
When your craft becomes your business, it's important to focus on the little details and ensure your enthusiasm comes across to customers. It's possible to enter the bath and body products sector with handmade soaps, but selling these items may prove challenging without excellent labeling. After all, as a craft producer, you likely don't have the budget for an ad campaign. The way your products appear on store shelves, on your website or at farmers markets will do a lot to determine whether customers are interested.
Make Your Soap Distinctive
Selling your soap products means striking a balance between handmade charm and professional production values. Lightning Labels will help you thread that needle, offering tough and waterproof bath and body product labels that express your personality while standing up to condition on store shelves and in customers' homes.
No matter what size or shape your soap products are, Lightning Labels offers sizes and materials that will help you find the right labels to promote them. From wrappers on individual bars of soap to large, waterproof custom labels that wrap around hand soap dispensers, there's a label for every need. With an all-digital process, Lightning Labels can deliver impressive, quality imagery on materials that are impervious to water and oils. Your brand's name will still be visible and present, even if the packaging is stored by the sink.
Your choice of materials can also play into your brand's identity. Lightning Labels offers eco-conscious custom soap labels that will impress consumers looking for a more earth-friendly brand. If you have established a green reputation, you can maintain it. If you would like this to become part of your identity, now's the time to start.
As an independent craft producer, your soap product labels serve as a sort of introduction to the world. While consumers can learn about global conglomerates from TV commercials or other mass-distributed ads, your brand's story will be harder to find. A custom label is a great place to spread information and imagery, letting people know how you create your soaps, where you're based and what values your company stands for.
Lightning Labels Can Help
When you're selling a craft product, your unique perspective is what helps sell the item. Lightning Labels, in its vast variety of label styles and materials, is here to help you communicate that outlook, however, you think is best. With an all-digital printing process, quality is high and orders are filled quickly. Lighting Labels' use of domestic production facilities instead of outsourcing helps further cut down shipping time and costs.
When working with a digital printer such as Lightning Labels, rather than a shop that employs photogravure plates, you can order labels in low amounts without breaking the bank. This is vital when the product is handcrafted, as the chances of you producing enough soap to warrant an industrial-sized label order are low. Lightning Labels lets you stand shoulder to shoulder with national companies in the quality and appearance of your soap products while allowing you to order the number of labels you need.
Request your FREE instant quote today.