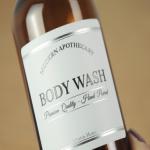 Christine and John Keener, owners of California-based Artanis Home, which makes both customized and unadorned refillable bottles and jars, have been getting great reviews on Etsy since the company ramped up in 2017.
Their unique set of shampoo, conditioner, and body wash bottles featuring chrome-accented labels were introduced on Amazon in February, and quickly became the most popular new release in the "Refillable Cosmetic Pump Dispenser" category, according to Christine.
The company provides both design-your-own and custom-designed bottles and jars through their website. There are quantity discounts, and "we take special requests for any of our other stock items to be customized," notes Christine.
"Custom products are great for small hotels, gyms, etc., featuring customized branded, waterproof labels, and we hope to expand our B2B clientele."
She adds, "I see myself creating at least a couple more designs so that customers who prefer a different style have choices.
She has two lines of products that come pre-labeled or pre-printed, allowing customers to choose labels and pumps to make coordinated sets of bottles. She adds, "I see myself creating at least a couple more designs so that customers who prefer a different style have choices.
She points out, "It is rare to find bottles that can be completely customized and with the variety of options that we have."
Inspiration for Artanis Home occurred when Christine was a "young homeowner with a flair for decorating, and I had several products in my bathroom with mixed up bottle colors that just didn't go with my decor. So on I went on a shopping trip to find something that didn't exist - a line of nice labeled containers that could replace my skin and hair product bottles, and not just that basic dispenser that you might find paired only with a toothbrush holder at your local home goods store." Not finding what she wanted, she dropped the idea.
Fast-forward 15 years, Christine was in a "decorating frenzy" for another new home. She thought, "Wouldn't it be great to have some really nice bottles in my bathroom? Too bad they don't make them." It was time to put the entrepreneurial spirit that had been bubbling beneath the surface into action. "I built a company offering my own line of bottles and jars of different shapes and sizes with labels to make bathrooms organized, unified, and beautiful."
Relationship with Lightning Labels, the lightning-fast bath and body digital printing specialist
Christine is very invested in her labels. She notes, "Our bottles are not just packaging - they are our product, intended for home decor, so they must look nice. And because our bottles are used in the shower, water resistance is of utmost importance. I've tested the labels by submerging in water for extended periods of time, and they hold up beautifully. And with the quality of Lightning Labels' prints, there are some precise details that make our favorite design quite exquisite. To get those details with the chrome BOPP, the prepress operators told me from the beginning how to layer my design so those details will be precise. When I didn't layer properly with new sizes and titles, they caught my oversight and fixed it."
Request a free quote today to get started.