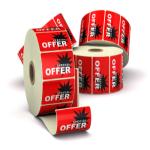 How do you get your brand name and logo in front of a huge audience, in a fun and cost-effective way? It's simple — you order custom printed stickers. A colorful sticker made of tough materials can carry your message into the world, whether you sell the sticker or give it away for free as a promotional item. It's all part of a smart, multi-faceted marketing strategy.
Brand promotion isn't the only role for stickers. You can also apply custom stickers to your products to celebrate limited-time promotions, awards won or business milestones. Or you can order customized sticker types such as window decals in limited quantities and apply them around your business.
When you have a high-quality custom sticker printing partner, you have options. No matter what kind of products you sell, at least one type of custom sticker likely lines up with your objectives.
What Are the Uses of Custom Stickers?
The great thing about a custom sticker is that it's a blank slate. Any type of image or text can be printed onto a customized sticker, serving a variety of roles for your business. The following are just some of the most common roles stickers play for companies:
Free promotional stickers: These are custom stickers distributed to customers or handed out at events, designed to spread your brand logo far and wide. Tough vinyl bumper stickers are especially good for this purpose. Despite the name, custom bumper stickers aren't just for cars. If your sticker has a compelling design, people may stick it to their computers, water bottles or luggage, carrying the logo along with them.
Milestone recognition seals: If your company has received an award or reached a milestone such as 20 years in business, you can advertise that fact with custom stickers on your products or around your store. These stickers are especially compelling if you use special techniques such as hot foil stamping and embossing to make them look and feel like metallic seals.
Decals for teams, clubs or businesses: Custom logo stickers and decals have a wide variety of roles even when you use them yourself instead of handing them out. For example, you can customize helmets and other equipment for a school or recreational league sports team. You can also create decals to adorn the windows and doors of a retail store. Anywhere where a logo would look great, that's where you need to apply a custom sticker.
Packaging for items with limited space: When you don't want to wrap an item in a full custom label, or when you want to put an extra piece of branding on the exterior of a shipping container, stickers are the perfect choice. Jar lids, cans, boxes — these packages and more look good with a die cut sticker in the exact right size and shape.
Once you've come up with one or multiple sticker use cases for your business, the next step is to ensure you're getting the best quality materials, printing and service. This will help your stickers stand out from competitors' offerings.
What Defines Great Custom Stickers?
A great custom sticker is one that gets your message across. This means there is harmony between all the various design elements. The sticker's visual style, material and finishing treatment should all work together to show your brand in the best possible light.
High-quality custom stickers are also defined by more objective measures. Sharp printing quality is important so text is legible and images are vibrant. Stickers must also be able to hold up through wear and tear and look good over time. This is especially important for sticker types such as vinyl bumper stickers, which may be deployed outside.
Since stickers represent your brand to the public, it's not worth settling for inferior quality. When you work with the right custom sticker printing partner, you can be sure you're getting custom stickers that meet high standards.
What Custom Sticker Features Are Available?
Sometimes, you need a custom sticker that goes beyond the basics to deliver a special look or feel. In these cases, there are a few compelling features that can deliver this added appeal. These include:
Hot foil stamping: Foil stamped stickers take on a shiny and metallic sheen. This gleaming appearance can catch customers' eyes and lend your stickers a feeling of class.
Embossing: An embossed sticker has texture, which makes it more compelling to touch, and can highlight elements of the text or imagery.
Green materials: Stickers made from recycled or earth-friendly materials can reinforce your brand's commitment to conservation.
Die-cutting: With customized dies, you can order custom stickers in any shape and size imaginable, which may add extra visual appeal.
Waterproof finishes: There are a variety of finishing treatments available for stickers. By selecting an especially tough material and finish combination, you can help your stickers stand up in bathrooms, outdoors or in other damp environments.
Since no two companies are perfectly alike, your sticker needs will differ from other businesses' preferences. Getting customized stickers that match your vision is an important goal to keep in mind.
How Do You Find the Best Custom Sticker Partner?
Making the most of a custom sticker order means choosing a partner capable of delivering impressive printing capabilities, coupled with top-quality service. Lightning Labels can deliver this combination, and has helped companies and organizations achieve their goals with custom labels and stickers for over two decades. From a classic vinyl bumper sticker to an embossed, foil-stamped sticker and everything in between, Lightning Labels can deliver stickers to meet your needs.
Lightning Labels uses all-digital printing methods to deliver sharp, high-quality color imagery, while enabling fast turnaround times and order size flexibility. Whether you need a handful of customized stickers or thousands of easy-to-apply roll stickers, Lightning Labels can print custom stickers for you, and even help out with sticker design services, which lets you devote your time to what matters to you: running your organization.
In addition to speed and flexibility, Lightning Labels offers a wide variety of custom sticker material types, and produces die cut stickers so you can choose the exact size and shape that meets your needs. Whatever you're hoping to accomplish with your sticker printing project, Lightning Labels is the ideal partner to turn your intentions into reality.
Request a free quote today to get started.