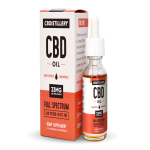 Manufacturer of CBDistillery products and other brands turns up the dial on industry professionalism
Much like the Gold Rush, the current state of the hemp-derived CBD industry dubbed the "Green Rush," is somewhat confusing and chaotic. A galore of purveyors have been offering a diverse array of products and claims amid increasing scrutiny and regulation by such agencies as the FDA. CBD rules of the road—what is legal, where it is legal and what disclosures or disclaimers are required—continue to be a matter of much discussion among the disarray.
Founded as a brand in 2016, owned and operated by Balanced Health Botanicals (BHB), CBDistillery set out to set the record straight. As noted on the company website, "Our founders saw that the emerging CBD industry was vastly overpriced and quickly becoming saturated with inferior products. This inspired the strong belief that people have a right to high-quality, fairly priced, U.S. grown, hemp-derived CBD products, so they set out on a mission to be the premier resource for CBD products and education."
According to Balanced Health Botanicals COO and Co-founder Andy Papilion, "The company has had a 20-year growth spurt in just over three years. We're ISO certified, certified by the U.S. Hemp Authority and follow Good Manufacturing Practices (GMP)."
Consumer education, seed-to-shelf quality control, complete and accurate information devoid of medical claims and based on the latest research, and full regulatory compliance are the four top priorities for both the manufacturing and retail entities.
While hemp-derived CBD is federally approved and essentially legal in every state, widespread education and distinct regulation remains vital. By definition hemp-derived CBD must contain no more than 0.3% tetrahydrocannabinol (THC) per dry weight. THC is the active compound in marijuana that causes its euphoric effect.
"We're working to help write the rules, educating consumers and regulators along the way," Andy says. "Ultimately, every state will need to figure out what CBD regulations to enact."
One educational shift with CBD, Andy points out, is that unlike cannabis, which is consumed primarily for its mind-altering qualities and where the majority of education focuses on people in their mid-twenties, much of CBD's audience is in their mid-40s.
CBDistilleryRx focuses on pharmacies Projecting that ultimate FDA regulation will center on CBD being considered a dietary supplement, the company is already regulating itself as such. This is part of the thinking behind launch of a product line targeting independent pharmacies through its CBDistilleryRx program. "It's a higher potency product," Andy says. Seed-to-self BHB puts heavy emphasis on total trackability from seed-to-shelf to ensure that consumers get top, predictable quality. "We talk about controlling the whole process from seed-to-self, making it very personal to each consumer," notes Andy. "We vet the farms, take care in ensuring that there are no harmful contaminants or heavy metals, and work to get the highest-quality hemp available. We monitor it all, versus some companies that just purchase product and manage it."
Andy adds, "The industry is in its infancy. It's like the wild, wild west out there. There are a lot of synthetics that can be harmful. We all need to understand how it's grown, how it's extracted, and the ingredients in the finished product. We post all third-party test results and have a QR code on all products so you can simply type in the batch number to pull up a full panel of test results. We want to confirm potency and make sure it's safe."
Relationship with Lightning Labels, the lightning-fast CBD label digital printing specialist "Lightning Labels prints labels for CBDistillery and approximately 30 white label products," notes Lightning Labels Account Manager Ryan Tennant. "As a self-regulation company, we've seen changes in opinion from policy-makers and regulators that require switching things overnight," emphasizes BHB Production Manager Gigi Targa. "Lightning Labels has been phenomenal in getting stuff turned around. Ryan, in particular, has been great getting labels turned around. And the quality has been exceptional."
Request your FREE instant quote today.