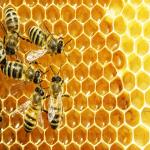 As far as food products go, honey is as natural as it gets. When you're selling honey, you can play up its purely natural origins - from the bees to your customers' tables - as long as your overall marketing and promotion strategy plays up this wholesome angle. In these cases, slick labels might not be the right choice for your brand. You can use eco-friendly materials for your custom honey labels, combining a rustic look and feel with the appeal of buying from a company that respects the environment.
Choosing a Material
One of the most exciting parts of choosing earth-friendly labels for your honey brand is the amount of choice you have. There are numerous eco-conscious materials available today, each with its own unique look and feel. The following are a few of the label materials available to your company, each focused on making products look great while minimizing environmental impact:
Biostone Labels: Biostone is an exciting material made from stone, which means no trees go into its creation at all. Biostone is durable and naturally water resistant, and it does not work with lamination.
Recycled Kraft Labels: These No. 55 paper labels give your products an earthy and natural look, while having a minimal impact on the environment - they are made of 100% post-consumer recycled material. Despite their earthy appearance, the labels are strong enough for machine application.
Recycled Vellum Labels: These No. 60 labels are similar to kraft labels, in that they are 100% recycled and their liners are strong enough for machine application. To give your honey bottles a unique, green feel, you can choose vellum.
Working with a Label Provider
Eco-friendly labels made by Lightning Labels are a great match for your honey brand. In addition to offering all the aforementioned materials, Lightning Labels enables quick turnaround times and low minimum order sizes due to all-digital printing processes. You can quickly and conveniently give your honey products a new look, one that will appeal to customers who have an interest in nature and protecting the earth.
Request your FREE instant quote today.