Grow Sales by Utilizing Barbecue Sauce Labeling Design Tips
[caption id="attachment_8373" align="alignleft" width="200"]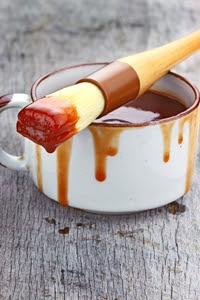 Use barbecue design tips to grow sales.[/caption]
Lightning Labels' barbecue sauce labeling design tips can help brands target the right markets. Barbecue is an American staple, beloved by food professionals, gourmets and backyard grillers alike. If you live in the U.S., chances are you've had barbecue and will again once the weather begins to warm up. This means the consumer base for barbecue sauce is incredibly varied, stretching across states even into international markets, which have their own styles of barbecue. By targeting your barbeque sauce labels to a more specific group, you could see an increase in sales.
Think About Targeted Markets for Barbecue Sauce
There are two main groups to think about for targeted markets for barbecue sauce: gourmet foodies and more casual consumers. Some people just want to purchase a cheap but delicious barbecue sauce to improve the taste of their neighborhood barbecue, a go-to condiment to slather on chicken or ribs. Others are more concerned about flavor profiles, recipes and food pairings. Depending on which group you aim to impress, your label strategy should be somewhat different. Make sure you include information that will appeal to your target market. For foodie types, you can emphasize ingredients, like specific peppers and spices, as well as the best ways to use the sauce.
Overall taste may serve you better for the more casual eaters. Is it tangy, spicy or sweet? Do you have testimonials to highlight? Promote how easy the product is to use in all situations and how it improves the dining experience.
Consider Geography for BBQ Sauce Label Marketing
BBQ sauce label marketing gets your products seen by the right shoppers. Another element to think about for barbecue and hot sauce labels is what style of cuisine your sauce works best with. According to Time Magazine, BBQ sauce differs by region in the U.S. Memphis, Tenn., North Carolina, Kansas City and others all claim to have unique styles. For instance, Memphis is famous for serving up pulled pork that has been soaked in a sweet tomato-based sauce, while western Texans prefer mesquite-smoked brisket. Of course, the U.S. doesn't hold a monopoly on barbecue, either. Many countries have unique styles of this preparation method. From Jamaica to Korea, the barbecue phenomenon is international. Be sure to promote the unique geographical origins of your product, if they exist. Some purists will want to know.
Request your FREE instant quote today.