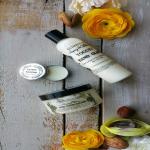 After a decade of making soap and cosmetics Christmas gifts, Charlene Simon opened her first Bathhouse Soapery & Caldarium retail store in Hot Springs, AR in 2009. She had $700 and 10 years' worth of hobby supplies as her startup stakes.
Fueled by customer demand for her soaps and an ever-expanding line of complementary products, Charlene opened boutique #2 in Natchitoches, LA and boutique #3 in St. Charles, MO in 2015. She plans to open #4 this year in a yet-to-be announced location. The company also offers limited wholesale opportunities to independent businesses and sells online at www.bathhousesoap.com
Charlene notes, "I made soaps exclusively in the beginning. Then, customers started suggesting other products for their skin, so we formulated accordingly. We also are inspired by new trends in spa treatments and aromas, and will continue to develop soaps and bath luxuries in that niche." Bathhouse also offers such olfactory delights as perfumed oils and aromatic candles.
Innovative uses abound. Charlene says, "Customers love to cut a sliver off of their bar of soap and tuck it away in their clothes drawers for added scent. I've also had customers tuck them under the seats of their car as a car freshener."
Relationship with Lightning Labels, the Custom Soap and Bath Products Label Specialist
With a strong awareness of the need for distinctive branding, Charlene places strong emphasis on her soap labels. She emphasizes, "Presentation is EVERYTHING. The bath and body industry is a competitive market and my labels from Lightning Labels help me stand out. The label is not only elegant and beautiful but strong and durable. My customers appreciate that the packaging looks bright and shiny until the end of its use. They are as proud to display it as I am to craft it, and I have Lightning Labels to thank for that. They also have exceptional service. My label keeper, Michaela, keeps me on track. I'm not very technically savvy and she has been a dream. They are lightning fast and everything always comes to me in impeccable shape."
To find out more about Lightning Labels custom soap and bath product labels, contact us today.
Request your FREE instant quote today.