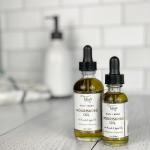 When Tolly's Treatments founder Mandi Tollefson sought custom-printed lip balm gifts for her wedding guests, she discovered that most were full of petroleum and synthetic fragrances. Knowing she needed to create healthier and cleaner products, she set out to formulate her own lip balms. Tolly's Treatments was born.
Citrus Honey, with pure oils and beeswax from a cousin's apiary in Hawaii, was her first lip balm. Enamored of the product, wedding guests requested more. As she dug deeper into Aromatherapy and natural products, Mandi had also discovered a remedy for her intense anxiety symptoms. She notes, "For as long as I can remember, I have struggled with intense anxiety symptoms. When I started researching deeper I found that essential oils can help treat a whole slew of ailments—including anxiety. This is when lavender became my best friend, and I was obsessed with discovering new essential oil blends to help with my symptoms."
Expecting her first child in 2016, Mandi began researching natural ingredients and testing more extensive formulations. Out of this came her best-selling product, Hydrating Skin Repair. She notes, "I used it on my growing belly. I passed some Hydrating Skin Repair along to friends, and they loved it, too. Eventually, I formulated a line of aromatherapy and body care products. So, it was finally time to take it to the masses!"
Today, Mandi is a certified skincare formulator who is developing a complete natural skincare line promoting wellness and good mental health. Focused on a "mental health IS health" credo, Mandi promotes self-care and self-love across their social media platforms. She adds that Tolly's Treatments is pledging 5% of their annual revenue to such mental health-related organizations as NAMI and Hope For The Day.
Personal interaction has always been paramount in marketing efforts. In-person markets, where customers can touch and feel products, remain a strong focus. This is part of an overall customer service program that Mandi says "is the backbone of my business. The ability to listen closely to your customer and solve a problem with a smile is success. Recently, I hired a team to expand these efforts. As with our customers, team members are valued for their collaboration and recommendations."
Relationship with Lightning Labels, the health and beauty product label printing specialist
Notes Mandi, "The labels are everything in the wellness/beauty space! I've had such great success with a rebrand and printing on a chrome BOPP label to add a sparkle to the products. That being said, printing on a chrome label was a bit of a learning curve, and Lightning Labels went above and beyond to help me figure that out quickly and smartly. Lightning Labels' sales and printing departments have always been quick to respond when I have a question or to help process larger orders. They are friendly and efficient! The online ordering system has been very convenient for reorders as well."
For more information, visit: https://www.tollystreatments.com/