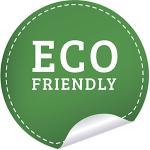 Especially over the last decade, a growing portion of the population has become increasingly concerned about the environment. Education about pollution, plastic waste, harmful production processes and more are now top of mind for many consumers. In fact, over one third of consumers are willing to pay more for a product if they know it is an eco-friendly choice. Now, businesses can turn to sustainable labels in order to contribute to a healthier planet and to align themselves with the values of eco-conscious customers.
Why Create Eco-friendly Labels?
Making a choice about whether or not to utilize eco-friendly labels will come down to your brand's values, your product itself, and your target customers. For example, a few reasons you might choose to create sustainable labels include:
Differentiating your brand: On shelves full of similar products, standing out can be a challenge. Sustainable labels can help you differentiate your brand from the competition.

Taking environmental responsibility: Especially if your target customers are people who also care about the environment, opting for eco-friendly labels can help show consumers that you are conscientious about the way that even your smallest choices impact the environment. By using sustainable materials, brands can minimize their waste and their overall footprint.

Adhering to your code of ethics: If your values as a brand place special emphasis on caring for the earth, opting for sustainable labels is a great way to stay true to your ethics and priorities.
On top of all of these strong reasons to use sustainable labels, there are also aesthetic benefits and special features of some of our top sustainable label materials.
Best Sustainable Materials
It's easy to assume that sustainable label materials are all flimsy and paper-based. However, Lightning Labels offers a wide range of sustainable label materials, each with their own unique strengths.
Sustainable Hemp Material
Sustainable hemp material is created out of the pulp of hemp plants. Manufactured with 50% hemp and 50% post-consumer waste, this eco-friendly label material is biodegradable and features a rich, smooth texture. Brands aiming for a unique natural appearance can consider the organic look of sustainable hemp. This label material also contains wet strength properties, allowing for durability in moist environments.
Biostone Labels
For a sustainable label material option that's still durable and reliable, opt for biostone labels. Instead of using trees, biostone labels are created out of stone. As such, they are water resistant and extremely strong.
Kraft (Recycled) Labels
Made with 100% post-consumer waste material, Kraft labels are an excellent paper label option. Whether your brand is committed to only using post-consumer waste or you simply love the brown paper aesthetic, this is an earthy-looking label material that appeals to eco-friendly consumers. Because of its stronger liner, this material works well with machine application.
Vellum (Recycled) Labels
Vellum is another 100% recycled post-consumer waste label material. Their smooth, matte finish and white coloring makes them a versatile option for a wide range of label designs. The strong liner on these labels is suitable for machine applications.
What to Consider When Creating Sustainable Labels
One of the first details to consider when you set out to make eco-friendly labels is which sustainable label material you will use. This decision will influence the rest of your design options and can help you visualize your end product. In order to choose the right sustainable label material and design for your product, think through aspects such as:
Expected environment: Will your product labels need to survive in a very moist environment, or adapt to huge temperature changes? If so, a durable material like biostone may be the best choice.

Application method: While some eco-friendly labels are well suited for machine application thanks to their strong adhesive liner, others can only be applied by hand. Determining your application method will help you choose the right label material for your product.

Desired appearance and texture: From the smooth texture of biostone labels to the organic appearance of kraft labels, you have options when it comes to the way your sustainable labels will look and feel.

Design colors: Once you have chosen an eco-friendly label material that is sufficiently durable and offers your desired appearance, you can move on to designing the label's contents. The colors you incorporate into your design deserve special attention because it's critical to think through how these will interact with the colors in the label material itself. For example, hemp and kraft labels are darker in color than vellum labels, so ink colors will show up differently on these materials.
Regardless of the exact label material you choose, your efforts to protect the environment will make a positive difference over time. Additionally, opting for these label materials will help your products land in the hands of consumers who share your values. Get started creating beautiful and sustainable labels with Lightning Labels. Get an instant online quote today!
1) https://www.businesswire.com/news/home/20211014005090/en/Recent-Study-Reveals-More-Than-a-Third-of-Global-Consumers-Are-Willing-to-Pay-More-for-Sustainability-as-Demand-Grows-for-Environmentally-Friendly-Alternatives