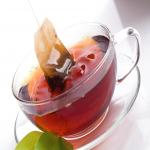 When you're thinking up a labeling strategy for your coffee or tea brand, the ideal labeling material for your purposes will depend on your overall packaging concept. Custom beverage labels for cans or bottles of cold-brewed coffee or iced tea will naturally be very different from the labels attached to bags of coffee grounds or boxes of tea bags.
Materials That Suit the Product
Custom tea labels and coffee labels should not only fit the type of containers your brand uses, they should express the company's style and branding. Material and finish choice will be essential in completing this impression. The following are a few of the options you have when deciding what to make your custom labels out of:
Clear, Chrome or White BOPP: This polypropylene material is designed to resist water and oil, and allows you to create labels rich with branded imagery. Clear labels, which can give a great view of the contents of a glass or plastic bottle. Chrome labels shine in the light and add a classy touch. White labels are more of a blank slate, and let you lead with colorful branded imagery, logos and text.
Estate No. 9 Paper Labels: If your products are sold in a dry form such as coffee beans or tea bags, you can use Estate No. 9 labels to add a textured, dignified look. These labels will help your products fit right in with other gourmet beverages and foods.
Eco-Friendly Labels: There's more than one earth-friendly label material available. For example, Biostone labels are made from stone, with no trees used at all. Recycled label materials including kraft paper and vellum are similarly kind to the planet.
A Top-Quality Labeling Partner
Getting the right labels for your coffee and tea products is easier when you have Lightning Labels on your side. Offering many materials and finishes that will suit your brand's needs, whatever those may be, Lightning Labels uses an all-digital printing process to enable quick turnaround times and low overhead cost.
Whether you're creating ready-to-drink beverages to be sold in supermarkets or focusing on producing gourmet loose-leaf teas, tea bags or coffee beans, your labels will define your company. Lightning Labels can help you catch customers' eyes.
Request your FREE instant quote today.