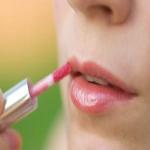 When you're designing labels for lip gloss products, whether launching a new line or creating a revamped look for existing items, it pays to select labels that fit the unique size and shape of the containers in question. Whether your brand uses clear bottles with square sides, narrow transparent tubes, or any other form factor, you can and should select custom lip gloss labels that present your logo and product information as succinctly and impactfully as possible.
Making Lip Gloss Sparkle
When shoppers pick up lip gloss, they want to clearly see the color of the product. This means your best bet for lip gloss label design may involve ample transparent sections, for a minimal look that lets the lip gloss itself be the star of the show. You can go further in this direction by choosing a small die-cut label in a rectangle or oval shape that leaves plenty of label-free surface area on the lip gloss container.
No matter how much of the packaging you choose to cover with labels, getting the right shape and size  is essential. If your labels are carelessly designed or printed and end up too large to fit on the container correctly, you'll lose your chance to spotlight your lip gloss products. Working with an experienced partner such as Lightning Labels alleviates this problem, giving you access to custom labels in dozens of sizes well-suited to even the most unusual container shapes.
Getting High-Quality Labels
If you're operating a new cosmetics company with lip gloss as its first product, you can begin on the right foot with Lightning Labels. If you're an established name in the field, you can use the partnership to move your branding forward. Working with unique and specific packages is a Lightning Labels specialty. If your health and beauty brand also offers lip balm, you'll find Lightning Labels has the technical means and know-how to create ideal lip balm labels for your needs. These can include fold-out extended content panels to contain extra information such as ingredient lists while providing plenty of space on the outside face for branded imagery and promotional copy.
By employing all-digital printing processes, Lightning Labels enables you to order the right amount of product labels for your needs. The lack of flexographic printing plates reduces upfront costs and enables affordable rates on small orders, as well as quick turnaround times and variable label content. When your lip gloss products need a new look, Lightning Labels is the ideal partner to help you achieve that revamp.
Request your FREE instant quote today.