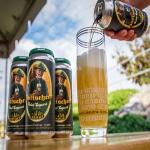 Denver's Bierstadt Lagerhaus believe in traditionally brewed lagers devoid of strawberries, gummy worms, pizza, and all manner of other "beer additives" currently in vogue.
Four ingredients comprise their beers, made in an 87-year-old resurrected German brew kettle from a strict Reinheitsgebot process: water, yeast, malt, and hops. Notes Ashleigh Carter, head brewer and co-owner: "We have brewed a lot of beer over the years, and it is our belief that traditionally brewed lagers are classics for a reason. They have stood the test of time."
While championing a classic recipe, Ashleigh enjoys the beer environment in the US today. She notes, "It is a fascinating time to be a beer drinker. There are so many options right now. Anything goes. You can find anything you do, or don't, want. The US in particular has an interesting beer culture."
Bierstadt-Lagerhaus focuses on German-style beers, but makes any beer that is a lager, including but not limited to Czech and American styles. Adds Ashleigh, "We focus on what we're best at, clean products, instead of trying to be good at everything."
Until the pandemic, Bierstadt Lagerhaus always had taken a hard line against packaging beer in cans or bottles. Ashleigh emphasizes, "We believe very strongly in drinking draft beer. It is a better experience than a packaged beer, especially considering the kind of beer we make — delicate and nuanced."
However, in response to pandemic-driven accessibility challenges, they started offering four packs of 16-ounce beer cans last April. Two classics, Slow-Pour Pils and Helles, are now available in beer cans with quality custom beer can labels from Lightning Labels. Notes Ashleigh, "While we still believe in drinking beer on draft, our move to cans comes from a place of people wanting to take beer to go, hiking, camping, and the like. If they're taking it to go, that's the best way to preserve the quality."
Supply chain challenges are under control, according to Ashleigh. "We're in a pretty good spot," she notes. "We've had to do more planning and managing of cash flow, and have had to order supplies earlier than before. We've discovered that a lot of people want to help. They're willing to go out of their way and help overcome the supply chain problems."
Relationship with Lightning Labels, the lightning-fast beer label digital printing specialist
Notes Ashleigh, "Customer service is awesome. There is quick response time, and we've never had a delay. We always know where we stand, and when labels will be ready. The labels are super high quality, and we get to see hard-copy prints before ordering to see what it feels and looks like. They're flexible to let us pick up labels or ship.
Ryan is great. He's not a typical salesperson. He loves beer and works with us to accommodate."
Bierstadt Lagerhaus is located at 2875 Blake St. in Denver. The website address is www.bierstadtlager.com. Phone is 720-570-7824.
Request your FREE instant quote today.