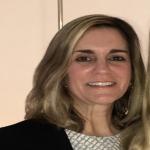 AnneMarie Campbell, Lightning Labels VP of Marketing, lives and breathes teamwork in her personal and professional pursuits. The avid New York Yankees and Giants fan volunteers for her church and the Junior League, and teams up as often as possible with three brothers, sister-in-laws, seven nieces and nephews, and her mom.
In her marketing role, AnneMarie is responsible for planning, digital strategies and implementation, email promotions, and collaborating with the sales team on brand representation. She also manages the budget and oversees the website, focusing on continuous improvement to optimize it for the best customer user experience.
At work, she is fortunate to be part of "the most cohesive team I've ever encountered. We all support each other, help each other out, and make sure each of our departments are successful. There's a lot of collaboration. We all communicate openly with each other, and we don't hesitate to reach out with questions. In today's challenging and overwhelming workplace environment, this feels much more like a close family. That takes away much of the stress that can negatively impact job performance and provides a really comfortable environment in which you can do your best work."
Unlike many workplaces, there is no silo mentality blocking off departments from one another. There is passion and pride in being successful. "Marketing, sales, and account management are interrelated and integrally involved with one another on a daily basis. As far as other departments, such as prepress, we all coordinate closely as well," she notes.
A customer-service focused company since its founding in 2002, Lightning Labels continues to stand for a quality product labels created correctly the first time, according to AnneMarie. "We believe in what we do, and that contributes to team longevity and the company's ongoing growth," she points out. "We have account managers who have been here since the beginning, a milestone we plan to celebrate as part of our 20th anniversary next year."
Teamwork also is evident in AnneMarie's physical exercise regimen. Two to three times weekly, she takes Barre classes, featuring a hybrid of yoga and pilates, with a group of like-minded enthusiasts.
Family, volunteerism, sports, recreation, and career combine to make AnneMarie's teamwork-oriented life and livelihood well-rounded.
Request your FREE instant quote today.