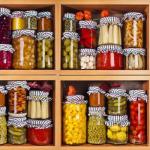 If you create small batches of foods like jams, preserves or marmalades, it can make sense to label those items by hand rather than by using printed custom jar labels. It's simply easier to write the contents of a jar yourself, or print it in your home office rather than ordering labels.
In these cases, you can still get value from working with a high-quality professional label provider. By buying your blank jar labels from such a partner, you can be sure you're receiving high-quality label stock that will look great on your containers, whether your preferred vessel is a mason jar, canning jar or another type of receptacle.
Choose Blank Labels for Jars to Promote Your Products
Creating blank labels that fit your canning jars and bottles is a perfect way to let your customers know exactly what they're getting, even when you've only made a small batch of a particular item. If you operate a retail store where shoppers can pick up small amounts of jams, sauces or preserves, handwritten notes on blank labels are the ideal way to mark contents.
When you combine blank labels with printed custom jar labels, you can get the best of both worlds. A label on the front of the jar can show off your company's branding and list out information about your items in general, while the blank label on the cap or lid gives details about the specific flavor in that container.
Producing slightly larger batches of jam, marmalade, honey or preserves may call for a full-scale food label for the front panel, in line with Food and Drug Administration regulations around food labels, calling for ingredient listing, nutrition facts and more. The blank label can then convey additional details such as the date a particular batch was canned, showing off to buyers that they are receiving a handmade product.
In other cases, true small-scale operations may qualify for cottage food labeling requirements. These are less stringent, and are designed to ensure small producers safely and accurately label products that don't qualify for the same sort of FDA requirements targeting processed foods. Cottage labeling laws exist at both state and federal levels, and states such as California have issued guides to help small-scale producers get in line with the rules regarding cottage food labels.
Whatever kind of artisanal foods you're marketing, blank labels for jars give you the freedom to mark individual flavors, varieties or batches on demand, getting items into customers' hands effectively.
Create Blank Labels for Jars of All Kinds
What size or jar shapes does your company use? No matter what type of glass bottle, aluminum can, glass jar or other container you prefer, there's likely a type of custom blank label that will fit it perfectly. This is true whether you're looking for larger labels to wrap around canning jars, small die-cut circular labels to put on jar lids and caps or any label size or shape in between.
When you're working with a mason jar or canning jar form factor, the patterned sides may mean there's nowhere to attach a label except the jar lids. A blank sticker on top of the glass jar could be the perfect solution in this case. Smooth jars give you more space to work with, which lets you decide how you'd like to promote your brand — you can opt for distinctive imagery, a simple text-based design or even a mix of the two.
In some cases, a very small blank label may be the best option. This is ideal for cases where most of the packaging is conventional, but there is some unique detail — such as the date of manufacture or batch number — that is best labeled on an in-house printer or by hand. Die-cut labels and stickers are available in any custom size or shape, and can fit this requirement perfectly.
Find a Blank Label Printing Partner
It's not that difficult to find a partner to produce blank and printable labels for your brand, because you can turn to the same trusted organization that creates standard custom labels. Lightning Labels' high-quality label materials and advanced label size die-cutting are available for blank labels.
This means you can receive all the benefits of working with Lightning Labels, such as the flexible order sizes, quick turnaround times and top-notch customer service, even when ordering blank labels for competition on in-house printers or by hand.
You can order small quantities of blank labels to suit your company's artisanal scale or make a larger order of printable labels, secure in the knowledge that blank labels will always be relevant, because you can decorate them however you choose. Whichever way you handle the blank label ordering process, you can select a custom size, shape and material that suit your exact needs.
Offering small batches of artisanal foods to customers is a way to create a real connection with your shoppers. Blank food jar labels can be the finishing touch on your packaging strategy, spelling out the unique nature of your items. Request a quote now.