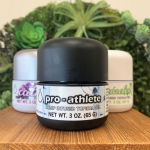 In a crowded CBD marketplace, Massachusetts-based Eleblend CBD topicals stands out in part because of traditional practices that include personal, face-to-face connections and attentive customer service. In addition, Eleblend brings pharmaceutical-level expertise and systems to their product line.
Notes Operations Manager Taylor Goodrich, "Eleblend specializes in manufacturing high-quality, CBD topicals. Our most popular hemp-infused gel is Pro-Athlete, our athletic blend. We maintain a strong focus in wholesale and custom formulations. Our background is in pharmaceutical manufacturing with a specialization in emollients and permeation enhancers. As the cannabis and essential oil markets began to grow, we introduced natural ingredients in our existing formulation to create a range of products that would improve the quality of life through relaxation, rejuvenation, and well-being." Eleblend is licensed under the Massachusetts Department of Agricultural Resources to manufacture product infused with industrial hemp extracts.
Taylor adds, "With a strong focus on research and development, we are continuously testing our products, which does not seem to be a large focus in this industry past what is required by state and federal law. We have conducted years of testing in formulation stability, cannabinoid stability within our products, packaging and ingredient compatibility, irritation, dermatology studies, and much more. In a market with a large focus in 'all natural' and 'organic' products, our formulation focuses on having a limited number of high-quality cosmetic grade ingredients that are found in common facial and skincare brands."
She stresses the importance of personal interaction over that on a screen, and says the company's biggest aim for the upcoming year is a stronger presence in local brick and mortar shops. Taylor points out, "Finding the right fit for our brand in online marketplaces has been tough. In the cannabis and hemp industry, there are many competing online marketplaces and it is difficult to know which avenue would be the most beneficial."
The glue holding everything together is attentive customer service. Taylor emphasizes, "It is important to build strong one-on-one relationships with our customers to ensure a lasting partnership. We walk our wholesale customers through a step-by-step process in formulation, manufacturing, and packaging procedures."
Relationship with Lightning Labels, the CBD product label printing specialist
"I feel that our new branding of CBD product labels have helped to make our products look more professional. Lightning Labels makes the design and purchasing process easy, with a quick turnaround. I find that their customer service is super helpful with design and graphic layout, which cannot be said for many printing companies. Lightning Labels works with you as if you are part of their team—which makes the process much more friendly and inviting. The representatives that I work with are always offering size suggestions as well as material samples to make sure that I am comfortable with my choices before moving forward with an order," Taylor points out.
Visit www.eleblend.com for more information.