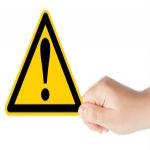 Proposition 65, the California law demanding the labeling of a long list of potentially harmful substances, received changes and revisions in 2016 that took effect in August 2018. If your company operates in the California market and sells goods that include any of the items on the state's list, it's important that those products have custom prop 65 labels.
There's never a bad time to verify that you're in compliance - or to take corrective action if it turns out your offerings aren't properly labeled.
What's New with Prop 65 Warning Labels?
The latest version of California's warning labeling system requires manufacturers to use new written and pictorial warnings on products that contain the chemicals listed by the Office of Environmental Health Hazard Assessment. The new phrasing of the warning labels uses the phrase "can expose you to" in place of the old "contains" when referring to the substances in an item. Furthermore, the labels now direct users to visit the state website if they want to learn more about the chemicals and Prop 65 in general.
The new pictogram element of warning labels is a triangular yellow hazard sign. This and other revised characteristics of the product labels were A-B tested against the older versions and found more effective by 77% of test subjects, hence California's push to introduce the new regulations.
While adding warning pictograms to your products' labels may seem punitive, it should be noted that the Prop 65 revisions include some elements designed to be helpful to businesses. For instance, the "contains" phrasing of old labels was more severe than the new text, and the rules are now clearer about what companies' labeling responsibilities are, to help avoid confusion.
What are Prop 65 Labeling Best Practices?
When adding Prop 65 warnings to product labels, you need to ensure the new designs are in compliance, while also making certain they don't damage the visual appeal of your goods' packaging on store shelves. Working with an experienced labeling partner such as Lightning Labels is a good way to make sure your warning labels meet the OEHHA regulations while not sacrificing aesthetics - the labels are available in dozens of shapes and sizes, and in numerous materials and finishes.
Getting up to date with Prop 65 compliance labels is absolutely essential now that the compliance deadline has passed. While creating new designs to incorporate the necessary warning text, you can also revise the branded elements of your product labels, creating an appealing visual identity for your items.
Request your FREE instant quote today.