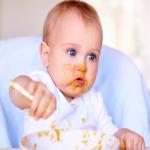 Baby Food Manufacturers Go to Trial Over Jar Labels
Buying food without added chemicals has become essential for many consumers, but some companies leaving warnings off jar labels are in trouble over the issue. Three children's food makers are currently part of a legal battle in California for allegedly infringing on a state law requiring warning labels be displayed to educate consumers over the small amount of lead present in the food.
The lawsuit was filed by the Environmental Law Foundation against Gerber, Del Monte Foods and Dole for violating California's Proposition 65, which requires any toxins within food to be addressed on the label. The state law is the only right-to-know law within the United States, is updated annually and has a list of around 800 chemicals that must be put on warning labels, of which, lead is one of them.
Incorrect Printed Labels Can Lead to Food Poisoning in Children The controversy at issue is over trace amounts of lead found within select baby food products, such as grape juice, pears and carrots that were not clearly identified on printed labels, according to the parties brining the case. According to Businessweek, the legislation is usually enforced through private lawsuits and the food makers argue they are in the right, saying the levels of lead within the products are below the law's warning label requirements.
Request your FREE instant quote today.