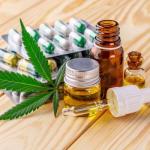 Ever since the medical and recreational adult-use cannabis markets first emerged, there has been a buzz around these sectors. It's rare for a whole new product category to open up in the retail market, but that's just what's happened in the case of legal cannabis sales in the U.S.
If you're interested in entering this constantly expanding market, it's important to understand the ground rules to which producers are held. Taking advantage of exciting cannabis sales opportunities involve careful compliance with all relevant laws and regulations, to ensure your company's ascent isn't interrupted by costly fines or other punitive actions.
Cannabis product label creation is an essential part of this compliance effort, one that differs between the medical and recreational markets, and across all the various states that have legalized one or both varieties of cannabis products. In the absence of consistent, nationwide legalization like what has occurred in Canada, a fractured market is simply a fact of life for U.S. producers.
However, with the right custom label printing partner on your side, you can stake a place in the cannabis market, in the state of your choice.
The Expansion of Cannabis Sales
The map of states that allow cannabis sales is expanding all the time, and it just grew again. The November 2022 elections brought two successful ballot measures to allow the sale of recreational marijuana, one in Maryland and the other in Missouri.
The Washington Post reports that the Maryland measure is set to roll out in the months ahead, with legalization coming into effect in July 2023. A companion bill that ties into the ballot measure also includes the expungement of cases that hinged solely on cannabis possession charges. The rules for retail stores have not yet been decided, with the Post explaining that the matter will likely be discussed in January.
The St. Louis Post Dispatch states that the Missouri measure, like the one in Maryland, comes packaged with record expungement for previous non-violent charges associated with marijuana. The text of the bill outlines the process of setting up a recreational sale system and allowing Missouri residents over the age of 21 to make purchases.
While three other states rejected initiatives that would have legalized recreational marijuana — namely Arkansas, North Dakota and South Dakota — the steady expansion of sales is ongoing. There are now 21 states with legal recreational sales, while Investopedia notes that 37 states and the District of Columbia allow cannabis use in some form.
As more states legalize marijuana there are new opportunities to enter the market, coupled with a need to stay aware of cannabis packaging rules from the start to avoid the loss of momentum that would come with a compliance violation.
The Evolution of Labeling Laws
With new markets come new labeling laws. The continued illegality of cannabis at the federal level means national bodies, such as the Food and Drug Administration, can't step in and create a universal labeling framework for either medical or recreational cannabis. This has left states to come up with their own sets of rules.
As new legalization bills pass, each state legislature tries its hand at creating labeling laws that will protect consumers by giving them as much information as possible. In many cases, these rules also prohibit companies from using cannabis packaging designs that would appeal to children, for instance by resembling candy wrappers.
States can build on the successes and failures of those that have gone before when designing their labeling laws. The National Institute of Health's Alcohol Policy Information System shares information on the latest states that have approved legalization, including how these states are approaching labeling policy.
Here are a few highlights of these recent labeling laws:
Connecticut rules enforce "strict packaging and labeling standards." The regulations require marijuana packaging to contain child-proofing features, while also banning product types that target young consumers.
Virginia proposals impact both marijuana product packaging and in-store signage. The cannabis packages themselves must have potency information, as well as safety warning labels. Signs in stores must list the risks of cannabis consumption.
Both states also have other rules that will likely tie into their finalized labeling laws. For instance, Connecticut requires lab testing and Virginia calls for seed-to-sale tracking. Keeping up with such rules often calls for advanced label features such as QR codes. Because these 2D barcodes can link to updated online information, producers can give detailed descriptions of their items' testing history and chain of custody.
With more states embracing either medical or recreational legalization at a steady pace, it's worth checking the new laws that emerge in each location. Legislatures are working off of other states' examples as they design their own approaches to labeling.
Custom Cannabis Label Basics: Recreational Adult Use
When considering the basics of cannabis labeling — the types of considerations companies are considering in every market around the country — it can be helpful to look back at rules from the earlier states that approved legalization.
For instance, Oregon was the fourth state to legalize adult-use consumption, with U.S. News & World Report explaining that the measure was approved by the state legislature in November 2014, the same month as Alaska. The state has a detailed labeling document that covers both recreational and medical marijuana label design; these rules are already on their fourth version.
Some useful takeaways from the Oregon rules include the way the state requires producers to include laboratory results on product packaging. For example, if a cannabis product has been tested by multiple laboratories, all the results from those tests have to be preset, and the measurements of total THC and CBD amounts must come from the lab that carried out the official testing required by state regulation.
The labeling laws also note that there is some information that must take place on the principal display panel of the label, the one that typically faces consumers on store shelves. Products can have more than one of these panels, for instance, both the front and the top of a box. In that case, all those primary panels must contain required information, such as the universal symbol for marijuana products, the item's weight or volume and the "identity" of the product, as well as whether it comes from marijuana or hemp.
Other specific regulations include requirements for individual packages too small to contain full cannabis product labels, as well as the need to include a unique identification number provided by the state's tracking service of choice.
Custom Cannabis Label Basics: Medical and Prescription Use
The Oregon cannabis product label regulations can also be instructive when it comes to comparing recreational and medical cannabis labeling, as the state has long had both types of sales and differentiates them in a few key ways.
One of the most notable details for medical marijuana labels is a "Medical Grade Symbol." This is a second pictogram that goes alongside the universal marijuana symbol. It's important because it denotes items that have a higher concentration of THC than is allowed in recreational products.
The medical product has to come alongside the universal symbol, and for these products, the written warning on the label should state "For OMMP patients only. Keep out of reach of children." On recreational products, the wording of the first sentence is "For use only by adults 21 and older."
Future Possibilities within the Cannabis Market
What's the future of recreational marijuana and cannabis production, labeling and sale? The answers are currently unclear. As U.S. News & World Report points out, the House of Representatives first approved a decriminalization bill in April 2022, and a separate bill aiming for federal decriminalization was subsequently introduced into the Senate, though there are no guarantees regarding whether it will pass into law.
This tentative legislation, along with the October 2022 announcement of pardons for individuals convicted of simple marijuana possession, indicates that there is momentum behind the concept of more widespread legalization. If you're planning to open a cannabis business in the coming months, it pays to keep a close eye on every development, as conditions are constantly changing.
One thing seems certain: No matter what direction the legalization movement takes, tight labeling regulations are here to stay. States that have already approved recreational or medical cannabis have all taken their own approaches to label laws, and each new set of laws has shown the persistence of rules ranging from product type prohibitions to lab result reporting.
The best way to get ahead of these rules and achieve compliance is to do your homework about approved and proposed laws in your targeted state, and to team up with a label printer capable of meeting all relevant standards.
The Value of Working with a Top Cannabis Label Provider
An experienced label printing business can make a major difference when it's time to craft marijuana product packaging for your recreational or medical cannabis products. These companies have the technical capabilities to generate cannabis labels that will look great on your product packages, while still bearing all the necessary advanced features, potentially including QR codes that will help you meet lab results and chain-of-custody regulations.
Lightning Labels has spent over 20 years as a top label printing partner for companies of all kinds, including cannabis producers in fast-moving state markets around the country. These years add up to a better experience for your brand, allowing you to focus on the quality of your products.
By using advanced all-digital label printing methods, Lightning Labels can deliver optimal results regarding the visual sharpness of finished labels, as well as ideal turnaround times and order size flexibility. Whether you need thousands of labels or just a few, you can get them quickly, bearing all the information regulators look for when approving or denying your application to operate a cannabis business.
Lightning Labels can join in at any step in the label printing process, from initial design consulting to re-ordering large batches of labels as your business takes off. In an industry that moves as quickly as cannabis sales, you can't afford to be held back by an inefficient or inexperienced label printer. This is why Lightning Labels is the perfect ally for your growing business, whatever corner of the market in which you operate.
Request a free quote today and see what Lightning Labels can offer your company.