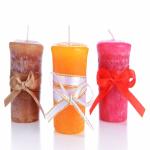 Scented candles are clearly designed to appeal to customers' noses. But to win those shoppers over for the first time, you have to catch their eyes. This is where custom scented candle labels come in, making these candles look so irresistible on store shelves that potential customers will come in closer to take a sniff.
Creating the perfect product labels for scented candles means taking a number of design elements into consideration. You should be prepared to create packaging that is tough enough to withstand heat, shaped correctly for your container of choice and designed to spotlight the best qualities of your brand.
Winning over curious shoppers with effective scented candle labels is a high-stakes part of marketing your candle brand. After all, by the time buyers see your labels, they're in a store ready to make a purchase. Convince them to choose your brand once, and they may become loyal customers, delivering valuable repeat business.
Catching Customers' Eyes with Scented Candle Labels
Shoppers today have plenty of choices when they're looking for scented candles. Making your products stand out comes from intelligent design choices, all adding up to a cohesive visual brand identity.
As the Armatage Candle Company guide to custom candle label design explains, a candle label should express the company's personality. A logo is a good start, as that's an identifiable mark that customers can come back to, trying more scents from the same producer. Label imagery also has a role to play in establishing brand identity. Is your company associated with a specific place, or are your candles trying to express an emotional response? Imagery can help create these links for shoppers.
Armatage also recommends carefully picking a color palette that looks good with your design. This typically means using 60% of one color, 30% of a second and 10% of a third with good contrast, and largely sticking to those shades.
Scented candle label design is an interesting subset of general candle labeling, because you have a go-to subject for your label imagery: the candle's scent. If you're replicating a very specific smell, such as apple pie, it's relatively easy to pick out some pictures that show off apple pie. In cases where the smell is more evocative, like a summer day or a woodworking shop, you can go for more generalized pictures that show the scene you're hoping to conjure.
Tapping into Scented Candle Labeling Trends
Scented candle label designs have to do more than stand out on a crowded shelf and express your brand identity — they must also fit into what customers want. Audience interests and preferences change over time, leading to new developments and trends in product packaging.
Research on the state and future of the scented candle market points to one of the most interesting and potentially impactful trends today. Namely, that many of your scented candle customers may be brand representatives rather than consumers.
A Fortune Business Insights report on the global scented candle market revealed that the rise of the hospitality market is an important factor to consider for candlemakers. With hotels, spas and other hospitality services shuttered due to COVID-19, that removed an important group of potential candle buyers from the market.
A hospitality company could be a critical buyer for your brand's candles. Of course, that company's purchases will likely be carried out online, rather than in a store. Creating a label design that translates well to two-dimensional viewing on an e-commerce site is an important way to reach both B2B buyers and curious online consumers.
The National Candle Association concurs that e-commerce is essential, naming online shopping a top candle trend. Of course, scented candle labels are more important than ever in a space where no one can smell a candle before making a purchase — the whole buying decision will be based on visuals and text.
In addition to targeting online shoppers and B2B buyers, candlemakers are also getting unique and creative in the scents they choose to reproduce. The National Candle Association remarked on the rise of scents that offer up nostalgic feelings with evocative names, as well as scents that target unconventional markets, such as explicitly masculine scents to reflect the increasing trend of men buying candles.
A nostalgic or evocative name demands a well-crafted label. For example, if a candle is meant to create the feeling of going to summer camp, it should have a label that plays with related imagery, creating an immersive experience that buyers will respond to.
Creating Safe, High-Quality Scented Candle Labels
When creating custom candle labels, there are a few safety considerations unique to the field. As a product that gets hot and features an open flame, a scented candle has risks that don't apply to other types of home goods.
First, candles should have warning labels that use easy-to-understand pictograms to warn consumers about the risk of fire. The National Candle Association uses its role as the major trade organization for U.S. candlemakers to recommend that producers include three warning symbols on their candle labels.
In addition to usage directions and warning text, those three symbols give buyers three important instructions associated with burning candles. They state:
Burn within sight.
Keep away from things that catch fire.
Keep away from children.
While including directions and safety information on custom candle labels is an important consideration, there is another side of fire safety: brands should also ensure their candles and packaging are well-designed and don't pose a fire hazard. National Candle Association members all have to follow fire-safe manufacturing practices and test their candles for fire safety.
Your choice of custom candle label material will determine both how well the label stands up to heat and how good it looks on store shelves. You need to make sure you're working with a high-endurance substrate that won't be damaged when the candle jar becomes hot.
Working with Different Kinds of Scented Candle Containers
Your brand has options when choosing the exact kind of container that will hold your scented candles. Even within the most common categories, there are interesting variations that can change the way people perceive your products.
For instance, if you choose to work with a standard candle jar, you get to select the exact contours. Will the jar be a simple cylinder or tapered? What kind of label will it have — or no label at all? These choices not only determine how the candles can be stocked and stored on shelves, they also give you different surfaces for placing custom labels.
A large jar with a curved lid may have plenty of space for labels on the jar itself, but none on the lid. A flat lid could accommodate another label. The contours of the candle jar will determine what size and shape your scented candle labels need to be. A small die-cut label on the side of the jar can let the candle's wax color show through and draw consumers' eyes. In some cases, round stickers on a jar's top or bottom may be enough, with no labels needed on the sides at all.
The National Candle Association noted that some ambitious manufacturers have abandoned standard jars altogether. Reusable vessels that customers can keep in their homes after a candle has burned out may add extra value to a candle, while also demanding unique labeling — perhaps removable labels so that the containers can become decorative items.
There is still another option — no branding at all on the candle jar itself. Armatage noted that some companies find it best to sell their candles in boxes, with those cardboard containers containing all the candle labels. You could opt for a patterned box that sports your company's color palette or a very simple cardboard box livened up by custom stickers die-cut into the shape of your logo.
Finding the Perfect Custom Label Printing Partner
Creating scented candle labels that combine all the essential elements — high-quality materials, clear imagery, the perfect size and shape and more — is easy when you partner with an experienced custom label printing partner. This is where Lightning Labels can make a mark on your candle labeling strategy, delivering the eye-catching product packaging that will help your scented candles find their audience.
Lightning Labels has served customers across industries for over two decades, using exclusively digital printing methods to deliver fast turnaround times and flexible order volumes. Whether you need a few dozen candle labels or thousands, you can get them quickly from Lightning Labels. You can start the process with a design consult to get expert eyes on your labels, or work from designs your team has crafted.
When working with Lightning Labels, you can choose ideal heat-resistant label materials that will hold up when candle jars heat up, making sure safety information stays visible and your brand imagery looks great. Whatever corner of the scented candle market you're aiming for and whichever niche your candle brand fits into, there is an ideal label solution for you.
Request a free quote today to get started.