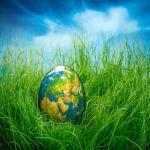 Creating great custom packaging is about more than graphic design. A company's choice of label material is a major contributor to the overall appeal of a custom label. For example, selecting an eco-friendly material demonstrates that a business is serious about caring for the environment.
The environmental impact of packaging is an area of concern for an increasing number of consumers. This means brands have plenty to gain by committing to earth-friendly label strategies. This can mean labels made without trees, labels made out of post-consumer recycled content, or hybrid labels partially made from natural substances such as hemp.
By learning to use earth-friendly custom labels as part of your packaging strategy, your brand can directly target eco-conscious consumers.
Appealing to Customers with Eco-Friendly Custom Labels
Research by McKinsey & Company on the subject of sustainable labeling indicates that customers do care about whether brands are producing earth-friendly product packaging. For example, between 60 and 70% of respondents across demographics said they would pay more for items that are sustainably packaged.
Among surveyed participants, 35-36% also stated that if they could find more products with earth-friendly packaging, they would buy them. The consumers indicated that there are few ways for brands to win their business. In addition to increasing the sheer volume of sustainably labeled goods, companies can also expand eco-friendly custom packaging to more product categories and clearly indicate that the items have green labels.
Eco-friendly custom labels are an especially good fit for companies that already include sustainability in their core values. If your brand falls into this category, you don't have to change your tone to integrate green labels into your marketing approach but rather use it as an extension of this ingrained messaging. It is important, however, to indicate on the packaging that the label material is sustainable, so that shoppers can consider that fact when making a purchase.
Choosing a Material for Eco-Friendly Custom Labels
Since there's more than one kind of eco-friendly label material, you're not limited to a single aesthetic when producing green packaging. The following are a few of the promising options you can choose from when ordering sustainable labels:
Recycled Kraft Labels: The Kraft paper material is made out of 100% post-consumer content, and is based on a strong liner that allows the labels to be machine-applied. The rough, earthy texture of the paper makes recycled Kraft labels ideal for products that need a weathered or natural look.
Recycled Vellum Labels: Recycled vellum labels are similar to the Kraft material — these, too, are 100% recycled and suitable for machine application. The difference is in the appearance of the paper itself, which is a creamy white color instead of brown.
Biostone Labels: Rather than being made from paper, biostone is literally made from stone. This composition means biostone labels pose no risk to the world's forests. Biostone is naturally strong and water-resistant, though it should not be laminated.
Sustainable Hemp Labels: A recent development in eco-friendly label materials, the sustainable hemp facestock is made from half hemp fibers and half post-consumer recycled waste. This hybrid composition is easy on the environment, and the labels have wet strength properties, helping them keep their appearance amid moisture.
Whether your brand chooses recycled labels or labels that never used trees to begin with, you can add an extra wrinkle and conscientiousness to your products' appeal on store shelves.
Once you commit to green labeling, your graphic design should tie into your eco-friendly label material choice. This means stating that the label is sustainably made, and it may also include other branding elements. For example, you can share other data about your company's commitment to the environment. If you contribute to green causes, customers will want to know that information.
Your overall applied aesthetic can also revolve around eco-friendly ideals. Natural imagery and a simple, homespun style can reinforce in shoppers' minds that they are dealing with a company that cares about the planet's well-being and its own environmental footprint and impact.
Printing High-Quality Green Custom Labels
Working with the right label printing partner is the ideal way to ensure your sustainable labels are not only eco-friendly, but also reach high levels of overall quality. While shoppers will look for eco-friendly product packaging, they'll also judge items on the way the labels look and feel. Lightning Labels is your top choice for professionally made printed labels incorporating earth-friendly materials.
Lightning Labels offers recycled paper materials, biostone and hybrid hemp stock, and produces custom labels with all-digital printing methods. This style of production enables fast turnaround times and flexible order sizes. You can receive any amount of printed labels at an affordable rate, from 50 to thousands, and get them quickly.
With customers showing an interest in green and sustainable packaging, your brand needs to take its eco-friendly label strategy seriously. Lightning Labels can help you achieve a perfect blend of earth-friendliness and overall excellence. Request a free quote now.