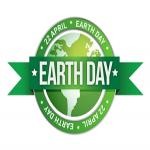 Leveraging Eco-Friendly Solutions and Materials for Product Labeling  Today is Earth Day, a time when individuals and businesses across the globe take a moment to appreciate and celebrate our beautiful planet. And one of the best ways to demonstrate social and environmental responsibility is by increasing eco-friendly and sustainability initiatives.
Using recyclable materials for product packaging and labeling has been an effective marketing tool for companies across all industries. But the advantages of businesses utilizing "green" practices extend far beyond appealing to consumers. Doing so can not only lead to cost-saving opportunities for companies, but it can also result in a reduced carbon footprint and an overall, safer, healthier environment.
Yahoo! Beauty Senior Writer Beth Greenfield recently highlighted the importance of personal care product makers adhering to earth-friendly policies and trustworthy practices on their labels. One way to do this is by ridding the item of any harsh ingredients or toxic chemicals, thereby making sure that any "green" or environmental health claims made on the package are entirely accurate. But it is not just what is printed on the label that matters, but how it was made in the first place.
This is why sellers looking to enhance the quality and eco-friendliness of their products are encouraged to switch to digital print providers that offer renewable materials for custom stickers and labels.
Sustainable Packaging Solutions  Of course, the type of green label that is best to use will depend on the type of good being sold. For example, there are certain items that are specifically designed to be water-resistant, making them the perfect solution for wine, beverages and some personal care products, such as shampoos and conditioners. Below are some of high-quality eco-label choices for sellers looking to become more eco-friendly and sustainable.
Biostone Labels: This option is made using stone, rather than trees, and fully biodegradable and compostable. And while it has great adhesive properties for ink, it should not be laminated.
Kraft Labels: Manufactured from post-consumer waste and 100 percent recycled materials, this alternative is categorized as #55 paper and possesses an organic look. The distinct, natural appearance makes it appealing to consumers looking specifically for eco-friendly products. It also should not be laminated, nor is it water- or oil-resistant. Therefore, it is most suitable for paper-based packaging and goods.
Using stickers and labels that are eco-friendly adds a layer of quality to an organization. If a seller is unfamiliar with the material options, or has never used them on any of its products or goods, it is highly recommended that that organization work with a digital custom print provider that allows clients to get a free sample of them to test ahead of time.
Creating EcoLabels to Communicate a Company's Values In a recent article for Packaging News, Waqas Qureshi pointed out that it is imperative for companies to consider whether or not the labels used on products accurately reflect the values of the brand. If not, organizations are missing out on the opportunity to appeal to target audiences using clear communication strategies. As we mentioned, there is a way to attract consumers looking for items that have environmentally-verified stamps on the labels.
But to take the environmental responsibility to the next level, businesses should reassess their process and what materials are used to produce the packaging and labeling adhesives in the first place.
There is no shortage of ways in which an organization can improve its energy efficiency and sustainability efforts. And what better time to accelerate such initiatives than Earth Day? Every step taken to reduce energy consumption and switch to more renewable and recyclable sources of materials can make a considerable difference - both for a company's success and the safety of our planet.
Request your FREE instant quote today.