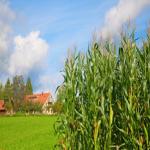 Pesticide Product Label System Continues to Change Misreading pesticide product labels can cause significant damage to farmland and consumer health. The Pesticide Product Label System (PPLS) from the U.S. Environmental Protection Agency is regularly updated with new labels and pesticide usage guidelines. Improperly applying insecticides and other pesticides can be hazardous to the environment and endangered species, but the frequent adjustment to regulations can cause severe issues for crop farmers.
According to Agri-View, a Wisconsin agriculture site, the labeling changes can cause difficulties for farmers who are used to applying pesticides to crops in a certain way.
Farmers Urged To Read Custom Labels  Agri-View reports commonly used insecticides have new custom labels, which may present challenges for farmers.
Mike Murray, head of the pesticide certification and licensing at the Wisconsin department of agriculture, trade and consumer protection, told the news site that labeling is essential for the protection of public health and the environment.
"Labeling changes for many reasons, including new science, new uses, and sometimes court action," Murray said. "Yet producers only take a [pesticide] certification test once every five years, and pesticide product labels may change at any time."
Request your FREE instant quote today.