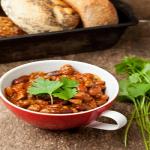 Food Labels Fail to Disclose Peanut Allergens Pennsylvania-based Fresh Food Manufacturing is being forced to recall nearly 36,000 pounds of chili following a revelation related to the potential presence of peanuts in the products. The recall went into effect after a spice supplier working with Fresh Food Manufacturing alerted the chili producer that the cumin it provided may have been contaminated with peanut allergens. Because the products do not generally contain peanuts, their labels don't warn consumers about the allergens' presence.
Consumers Urged to Check Labels As a news release from the United States Department of Agriculture's Food Safety and Inspection Service detailed, the affected products were Giant Eagle Market District Firehouse Chili with Beans, Good Cents Chili with Beans and Market District Firehouse Chili with Beans. The products were manufactured between Nov. 21 and Dec. 30 last year and shipped to retailers in Maryland, Ohio, Pennsylvania and West Virginia. They can be distinguished by the establishment number "40211," which can be found inside the USDA mark of inspection featured on the sticker labels.
Product recalls can quickly get costly in terms of both the execution of the recall itself and making any necessary reparations. In this instance, no adverse reactions have been reported to FSIS or Fresh Food Manufacturing thus far.
Recall Reminiscent of Previous Incident Another Pennsylvania-based company, City Line Foods Manufacturing, was hit with a recall in November of last year due to a different undeclared allergen - soy lecithin. The scope of the recall was much larger than the one currently affecting Fresh Food Manufacturing, as nearly 1.2 million pounds of frozen pretzel hot dog products manufactured between February and November were affected. The pretzel dogs were sold by big-name brands including Auntie Anne's and Nathan's Famous.
Request your FREE instant quote today.