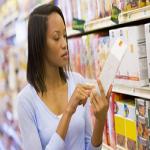 Less May Be More for Custom Food Labels That Sell Consumers are often attracted to custom food labels with fewer ingredients listed on them. The "clean label" trend is catching on, according to Food Dive, a food and beverage news source. This term refers to products that are less processed and contain more natural ingredients. As shoppers increasingly want components that are recognizable and easy to pronounce, brands should consider printing product stickers that either eliminate these ingredients or describe what they are to assuage the fears of consumers. Similarly, brands that don't use genetically modified ingredients should include this information on product packaging. Noting when an item does not have added sugar is another way to gain the attention of health-conscious shoppers.
Food Label Printing Needs to Include the Right Information Figuring out what to include on food label printing can sometimes be a difficult decision. Shoppers value certain details over others, said Suley Muratoglu, Vice President of Marketing at Tetra Pak in U.S. and Canada, in Beverage Daily. For tea products, shoppers have lately been drawn to clean labels that don't have any unnecessary added ingredients like sugars or ascorbic acid. On the other hand, certain consumers, like millennials, are equally interested in cultural experiences. Describing tea rituals and origins on labels is an important selling point for this market.
Request your FREE instant quote today.