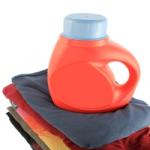 Labels on laundry products don't always tell the whole story, but many consumers are taken in by their deceptive language, TODAY recently reported.
"Don't blindly believe the big words on the front label that get you to buy without thinking," author Linda Cobb, a.k.a. the Queen of Clean, told the news source. "Words like 'safe,' 'natural,' 'green' and 'oxygen-based' are buzz words to get you to feel safe buying products labeled that way."
Does 'Non-Toxic' Mean 'Safe'? A good example of a word that might not mean exactly what you think it does is "non-toxic." Typically, shoppers regard a product that's labeled "non-toxic" as being harmless. However, the only qualifier for an item to be described as such is for it not to "produce personal injury or illness to humans when it is inhaled, swallowed or absorbed through the skin … [or] cause long term chronic effects like cancer, birth defects or neurotoxicity," in accordance with the definition of "toxic" laid out in the Federal Hazardous Substances Act.
Just because a cleaner doesn't meet the FHSA's standards for toxicity, as enforced by the Consumer Product Safety Commission, that doesn't mean it's environmentally friendly - or even completely safe. So, if they can't rely on what product labels say, what are consumers to do?
Reading Between the Lines If a laundry detergent promises to make your clothes look extra bright or smell like a meadow in the springtime, chances are there are chemicals involved.
"[Optical brighteners] can build up on fabrics even after rinsing and be harmful to the environment and your skin," Cobb explained. "Fragrance may contain dozens of ingredients, which may include petroleum-derived solvents."
These might not be toxic, per se, but they could cause skin irritation and other side effects.
With this in mind, Cobb advised chemical-conscious consumers to check the ingredients printed on labels and research any unfamiliar or suspicious-sounding items on the list. These days, many shoppers bring their smartphones with them while shopping, so it's easy for them to fire off quick Google searches and determine whether mysterious components like alkyl polyglucosides are friend or foe. (For the record, Cobb stands by these compounds, which are derived from two natural substances: sugars and fatty alcohols.)
What to Look For If terms like "safe," "non-toxic," "natural" and "green" don't mean what consumers think they do, what words should shoppers be looking for?
According to Cobb, you can't go wrong with products featuring labels that sport the Green Seal or Ecologo symbols, or the phrase "designed for the environment." As outlined by the Green Seal website, the seal serves as a third-party certification that products are environmentally sustainable and truly "green." Meanwhile, the Ecologo signifies that a product "has undergone rigorous scientific testing, exhaustive auditing or both to prove its compliance with stringent, third-party environmental performance standards."
The labels on cleaning products can be confusing, but it's important to remember that a little knowledge goes a long way.
Request your FREE instant quote today.