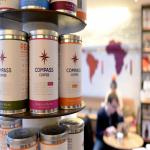 Michael Haft and Harrison Suarez became friends and coffee drinkers while at Basic School in Quantico, VA. The two young Marine lieutenants wound up commanding platoons in Afghanistan, where coffee became an important ritual and reminder of home.
So, it's no wonder that the duo started Compass Coffee in Washington, D.C. upon returning stateside. Featuring nine light to dark roast blends from primary growing regions of East Asia, Africa and the Americas, Compass is packaged in recyclable and refillable 12-ounce tins "which look great on the shelf at our local Whole Foods," notes Michael.
With four locations in the D.C. area, Compass is growing chiefly because of positive word-of-mouth, based no doubt on high quality and good taste of its signature blends.
Michael enjoys sharing the Compass Coffee experience beyond the walls of the stores. He points out that "kids at the elementary school around the corner from our roaster use recycled tins of coffee to build pyramids, make little planters, even create vegetable gardens. It's just fun seeing how excited they are about the tin. When you're five years old and already have all the energy in the world, reusing packaging to build your recycled empire is what really matters."
He also takes pride in helping others in the military get a sense of home by shipping coffee to such places as Diego Garcia, a distant refueling station in the Indian Ocean, and Afghanistan battlefields.
Relationship with Lightning Labels, the Beverage Specialist
Lightning Labels is doing its part to help keep Compass pointing in the right direction by providing custom coffee labels for their products. Notes Michael, "Lightning Labels has been a great partner. They are high quality and fast, and our sales rep, Mary, always goes out of her way to keep our customers happy! Lightning Labels has done an incredible job making sure that our unusual requests are handled in a timely and sensitive manner. They've truly gone above and beyond supporting Compass as we work to keep our customers happy."
Request your FREE instant quote today.