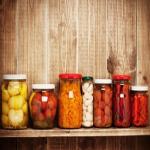 Summer Means Produce
A whole host of different fruit and vegetable varieties are becoming ripe as spring gives way to summer. If you can and preserve produce, you can save this freshness all year round. Those canned goods are also great to give away or sell, provided you can give them the proper pizzazz.
"It's time to think about harvesting, preserving and canning your goods."
When you're ready to turn your green thumb into a small business, launching your own line of food products, you'll want eye-catching labels and stickers to mark the products. Preserves and canned foods made from your own fruits and veggies are great to give away to family and friends or, if you have enough on hand, they can be a big hit at farmers' markets and local stores. In June, designated as National Fresh Fruit and Vegetable Month, it's time to think about harvesting, preserving and canning your goods.
What's Your Brand?
Whether you're canning goods to give to acquaintances or to be sold at markets, the process involves thinking about jar label design. There's no reason to leave the jars blank — not when there are affordable labels for canning available from Lightning Labels. Friends and family will love the personal touch that comes with your chosen imagery, and if you choose to sell the goods, branding just becomes that much more important.
Shoppers at a farmers' market will likely have a choice between many different growers' offerings. How can you prove yours are worthy of their money? Label design plays a key role here. The imagery and text you choose for your packaging, as well as the material, finish, font and other little design touches, will set your preserves and canned goods apart. If you opt for canning jar lid labels, you can brand multiple faces of the jars and make them look more distinctive, no matter what angle people view them from.
Preserve labels can include descriptions of the flavors within, or use local imagery to promote the locally sourced nature of your items. Shoppers today have a lot of choices regarding how they get their foods and what brands they consume. Playing up the wholesome nature of your offerings could help them stand out in a world largely dominated by big brands and artificial ingredients.
Team Up with Lightning Labels
Whether you're simply a hobbyist or you've made the jump to produce entrepreneur, Lightning Labels can help you stand out, with labels for canning that fit every need and requirement. Since you operate independently, you may assume that professionally made labels are out of reach, with high minimum order sizes and prohibitive costs getting in the way. Lightning Labels, however, works differently.
Lightning Labels uses digital-only printing processes at domestic facilities. This means you get your labels in a hurry, and can place an order affordably even if you don't need many labels in one go. The produce in the fields and orchards is getting ripe and because it's National Fresh Fruit and Vegetables Month — there's no better time to get serious about your canning and preservation efforts, whether as gifts for your acquaintances or the beginning of a new business venture.
Request your FREE instant quote today.