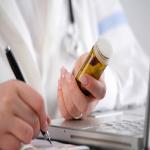 An America Without Product Labels
Can you imagine what the browsing and purchasing process would be like in the United States if product weren't labeled? To experience such an existence firsthand, you would have to travel back in time to the 1800s.
As print and design blog Impressions explained, labels made their American debut in the 19th century as a tool that served two purposes: identifying different types of pharmaceutical drugs and instructing patients how and when to take them. However, it wasn't until the mid-1800s that printers began to change their focus from simply creating labels that imparted important information to doing this in a way that set their labels apart from the rest. They began to develop label books that offered examples of different printing, engraving and color options. If you've ordered stickers and labels from Lightning Labels, you'll know that we still use an approach like this today - although, of course, the printing options we provide are much more sophisticated thanks to the numerous technological innovations that have taken place over the past century and a half.
The way labels adhere to products has also undergone an evolution over the years. Initially, according to Impressions, gum was used to stick them to pill bottles and vials. In the 1930s, R. Stanton Avery, a Los Angeles entrepreneur, invented self-adhesive labels that proved to be a game-changer for the business. The next red-letter decade for the label industry was the 1980s, when barcodes began to take off, revolutionizing the everyday shopping experience.
Nowadays, virtually every product has a label of some kind. In the preceding paragraphs, we answered the question of how we got here from the world without labels that existed two centuries ago. The next question is why - why did labels not only grow in popularity over the course of the past 200 years, but become practically ubiquitous? The answer lies in their multiple uses and purposes.
Delivering Information
In the 1800s, pharmacists applied labels to containers with the intention of making it easier to distinguish between different drugs, and to ensure patients knew what to do with their prescriptions (shake liquid medicine, ingest pills with food, take their medication twice a day, etc.). The pharmacists of today - along with members of many other industries - still use labels for this purpose. Some of the information included on today's labels includes the name of the brand and the company behind it, ingredients and nutritional information, warnings (regarding side effects and toxicity, for instance) and details that might make the product more enticing to customers ("fat-free," "all-natural," "vegan-friendly").
Meeting Diverse Needs
Since the printers of the mid-1800s first began promoting different options, label design has taken off in a big way. Just look at Lightning Labels' offerings as an example. We can manufacture vertical labels for wine bottles, horizontal labels for tubs of nutraceuticals, heat-proof labels for candles, waterproof labels for bath products and more. We even have a special material that has been formulated to meet the unique requirements of labels affixed to tubes of lip balm.
Attracting Attention
When consumers are standing in front of an entire shelf filled with the same product, how are they expected to choose one brand over another? Labels are the answer. If they're fond of a particular brand, they can easily identify it by its label. If they're looking for something organic, free range or low-fat, they'll be drawn to the labels that tell them which products have these attributes. If they're ambivalent about which brand to choose, a bright, eye-catching, well-designed label may well pique their interest and seal the deal.
Whatever your motivation for procuring labels, Lightning Labels' state-of-the-art printing technology can provide you with affordable, full-color custom labels and stickers of all shapes and sizes.
Request your FREE instant quote today.