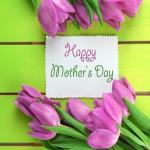 Are Your Product Labels Ready for Mother's Day?
Mother's Day is less than a month away, so if you sell candles, cosmetics and beauty items, now is the time to kick off the process of decking out your product labels ahead of the big day.
More often than not, moms are the glue holding households together. They ferry their kids to school, play dates and sports games, hold down the fort at home and, as if this weren't a full-time job in its own right, many even have their own careers on top of all that. There's no doubt about it - moms are busy people. So, when Mother's Day rolls around this May 10, the best gift families can give their matriarchs is relaxation.
Optimizing Your Custom Labels
If relaxation is the name of your marketing game for the second Sunday in May, be sure to integrate soothing colors into your custom labels. You can't go wrong with pastel shades, especially soothing blues, tranquil greens, glowing pinks and sumptuous purples.
Did you know that purple is a traditionally regal color? Around this time of year, shoppers are looking for items to make their moms feel like queens, so a little purple can go a long way. For a splash of decadence, try using gold trim or silver highlights - but don't go overboard, or else you may cross the line from tasteful and elegant to gaudy and over the top.
Bath Product and Candle Labels Should Hold Up Under Pressure - Just Like Mom
Keeping candles and bath products near the sink or the tub sounds great in terms of easy access, but as any mom knows, sometimes accidents can happen. A splash of water, an unplanned dunk, contact with bath oils or the extreme heat generated by hot wax shouldn't ruin bath product or candle labels. That being said, if the wrong material is used, your carefully designed labels may very well get ruined. Don't take the risk - make sure your labels are water- and heat-resistant by ordering them from Lightning Labels.
In addition to ensuring safety, Lightning Labels also offers high-quality, professional-looking custom stickers and labels than can stand up to major national brands' packaging at a fraction of the cost. Catch consumers' attention in the weeks leading up to Mother's Day without breaking the bank!
Request your FREE instant quote today.