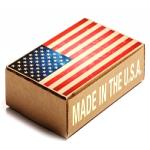 Parliament Reavows Requirements For Labels
Consumers don't just look to labels to see what's in the product they're buying, but also where it's from. However, buyers in the member states of the European Union have not been afforded that disclosure, and its legislative body is warning EU countries they need to step in line with labeling requirements.
The European Parliament recently announced it has reinforced its view that country of origin labels need to be mandatory on products imported from third countries. Parliament members had objected to a planned European Commission move that would roll back "made in" regulations.
Labels Needed For Uniformity
Parliament members held a debate and voted on the matter and agreed member states that fail to place mandatory origin labels on imported products such as clothing, shoes, jewelry and glassware must adhere to regulations in order to comply with global practices.
Parliament noted Brazil, China and the United States are among those that have mandated and enforced country of origin labeling.
"We cannot have double standards in globalized market," said Cristiana Muscardini, a politician from Italy. "We must ensure that the rules are fair for our citizens, consumers and manufacturers."
Request your FREE instant quote today.