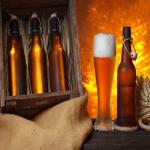 Ommegang Decides to Print Beer Labels with Names from Game of Thrones  HBO and New York-based Ommegang brewery have teamed up to print beer labels that have names inspired by the popular television show. The most recent custom beer labels came as a result of a Facebook poll on Brewery Ommegang's wall. The poll also determined what type of beer the next collaboration would be, Brewbound reported. Customers chose an Abbey Dubbel, which is a classic Belgian style. The central imagery on the label will be a double-headed coin, which represents a token given to one of the characters in the show. The beer will bear the name Valar Morghulis, according to ComicBook.com
Customers Pitch in for Custom Beer Bottle Labels The phrase "Valar Morghulis," which will adorn Ommegang's custom beer bottle labels, represents a central theme in Game of Thrones' fourth season. In the poll that selected the winner, this option gained nearly half of the total votes. The beer is the fourth of the collaborations between the brewery and the television company, with one being introduced with each new season. The first and second beverages were made in limited quantities and sold out quickly. While the third was produced in significantly larger amounts, it is also flying off the shelves. It's likely the trend will continue with the fourth beer in the lineup.
Request your FREE instant quote today.