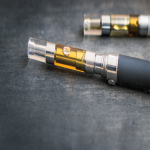 Manufacturing vaping products such as vape pens and e-liquid means dealing with complex requirements at every turn. To keep your items on store shelves, you must show a constant awareness of the evolving legal picture around vaping, e-cigarettes and alternative tobacco products.
On one hand, recent moves by the Food and Drug Administration have opened the possibility of securing approval to sell and market these items more widely than ever before. On the other, there is a continued need to comply with warning label rules and not use any labeling strategy that could appeal to children.
Once you've caught up with the legalities of vape label design, it's time to create compelling visual designs that will help your brand stand out. By blending compliance and label quality, you can stake your place as a top vape pen manufacturer.
Vape Pen Labels and Regulatory Requirements
The story of the vaping product space over the past few years has largely been defined by pushback from the FDA. The agency has taken actions such as removing e-juice and vape cartridge products in flavors other than tobacco from the market. These moves have come in the name of preventing kids from starting to vape, and created uncertainty for manufacturers of vape pens, e-liquid and all related items.
The tide began to turn in October 2021 when, for the first time, the FDA issued approvals to vaping products that were submitted as alternatives to smoking traditional cigarettes. The agency announced that since there is a potential health benefit to cigarette smokers who switch to vaping, it was time to begin approving at least some alternative tobacco products.
While these Premarket Tobacco Product Application (PTMA) approvals don't signal an end to tight vape regulations, they do serve as a watershed moment in the relationship between the FDA and the vape product industry.
Vape pens are a regulated piece of tobacco equipment, specifically as electronic nicotine delivery systems (ENDS). This includes both smaller devices that are shaped like conventional cigarettes or pens as well as larger versions, whether disposable or meant for repeated use. The required warning for nicotine such as vape pens and e-liquid is text on the package's two principal display panels stating "This product contains nicotine. Nicotine is an addictive chemical."
Getting your vape pen product approved means submitting an application — the FDA has shared an example of what a completed form looks like. Any advertising and product packaging designs must be shared with the FDA for scrutiny.
Making reusable vape pens is, in some ways, less fraught than manufacturing and marketing e-liquid products. After all, many of the recent controversies and regulatory actions in the vaping space have focused on flavors. As a simple delivery system, a vape pen isn't defined by flavor.
With that said, selling any kind of ENDS equipment means staying compliant and not standing in the way of the FDA's health efforts and social programs. The most important consideration is to make it clear that the products aren't being promoted to kids.
Graphic Design for Vape Pen Labels
The primary design priority for any e-cigarette brand is to stay away from branding that targets underage users. As of now, that means anyone under 21. Brands still have graphic design options when it comes to vape product packaging — simply with a less varied palette than in other industries.
A vaping device, especially a reusable vape pen rather than a disposable e-cigarette, is not just a consumable. These items are technology products, which means it's important to establish a sense of trust between manufacturer and consumer. Buyers want to know they're buying a reliable item that will work for them over time.
Creating that sense of authority and professionalism means committing to strong graphic design sensibilities. A vape pen with a well-crafted label can have a natural advantage on store shelves when compared with other brands that have a more makeshift or casual presentation.
Vape pen labels can be very successful with just a few design elements. A matte black or white background with a simple logo or brand name can be effective and eye-catching, provided the label is printed in sharp resolution on high-quality materials.
In the absence of bright colors and cartoon imagery — inadvisable due to their associations with kids products — vape pen manufacturers can embrace abstract design and text art. Designers seeking to create a powerful modern look can find inspiration outside of the tobacco field entirely, basing their visuals on the clean lines favored by technology companies such as Apple.
Reusable e-liquid delivery systems can give a larger canvas to work with than smaller items such as e-liquid bottles. A rectangular box leaves plenty of room for labels. This doesn't mean designers should fill up every inch of available space, however. A minimal design may still be the ideal choice when creating a signature look for a line of ENDS products.
The overall visual marketing strategy for your e-cigarette offerings should involve finding a style that expresses your brand's attitude and commitment to quality. Effort spent on the design process can pay off for years to come, whether you carry the work out internally or hire third-party designers.
Vape Pen Labels: Materials, Shapes and More
When you work with an experienced label printing company, you can select from a host of special features for your e-cigarette labels. These elements may add extra visual appeal that sets your brand apart from competing offerings.
You shouldn't underestimate the way the right material and finishing treatment can complement your visual design. If you're creating a sophisticated, modern look, a polypropylene material with a gloss or matte finish can create the effect you're looking for. If you'd rather evoke a simple, old-time feeling, however, paper label materials without a finish may be better. Heat-resistant label materials are ideal for products that get hot, for example as warning labels or instructions on vape pens.
Your choice of label shape and size is another potential way to create a memorable impression. If your vape pens come in simple rectangular boxes, a smaller die-cut label or sticker that only covers part of the packaging can be a source of visual interest. These labels are especially compelling on packages that have transparent elements — the small labels stay out of the way and let the product show through.
Beyond material and dimensions, you can customize vape product labels with features such as hot foil stamping or embossing. The former is a process that adds metallic accents to your packaging, while the latter creates raised patterns. Using such special features is a way to convey that your brand creates premium products.
Other advanced features include advanced 2D barcodes, notably QR codes. These codes can store more data than traditional barcodes, including URLs. When customers scan the packaging with mobile devices, you can direct them to more information about your brand.
The net effect of special label features can be a clear message to customers that you put effort into your products — while you remain in compliance with vape labeling laws.
The Ideal Vape Pen Label Printing Partner
When you choose Lightning Labels as your labeling, sticker and packaging partner, you gain access to a full selection of advanced labeling features alongside the speed and flexibility that comes from all-digital label printing. Lightning Labels' services include graphic design assistance, so your brand can come in at any part of the label creation process, whether you've finalized your graphics or are still iterating.
Lightning Labels has spent over 20 years creating custom labels for products across regions and industries, including e-cigarettes and other highly regulated goods such as cannabis. Low minimum order sizes allow you to build an agile labeling strategy: If regulations change in the near future, you won't be stuck with thousands of labels made to meet the old standards.
While creating labels for the vape products space comes with unique challenges, having the right labeling partner on your side makes it simple to succeed.