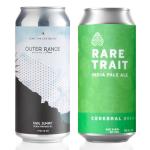 When you're starting a brewery, you may feel like there are thousands of other craft brewers out there, each with its own unique labeling strategy. That much is true. You may also think that this intense level of competition means that there's no room to stake out your own place. That isn't the case.
Every brewery has something that makes it unique, whether it's a location, a favorite ingredient or simply an attitude. If you can tap into the distinctive spirit that defines your brand, and create custom beer labels that capture that feeling, you're well on your way to standing out among the countless other craft brewers operating today.
Graphic Design for Better Beer Labels
Craft breweries seem to be in an arms race about which can create the most intense and outrageous label design. You can enter this packaging battle by designing your own over-the-top graphics, but that isn't the only way to promote your beer brand.
The key to compelling craft beer label creation is to choose imagery that suits your identity. That could mean emulating an old-fashioned beer bottle design sensibility with minimal graphics and a flat-toned logo. It could also mean going over the top and packing your label with bright-colored imagery and character art.
Check the 99 Designs gallery of top beer label designs and you'll see the many aesthetics companies have chosen. Some craft breweries have chosen to play up the hoppiness of their beers with cartoon hops, while others have gone for more relaxing art, while still others have decided to emulate old-fashioned European brews.
Each of these top brands has selected some core part of their branding and decided to build an identity around it, creating label designs that hang together as consistent and coherent pieces of artwork. By thinking about the traits that define your brand, you can do the same.
Your perfect design will not look like any of the examples — there's no sense in creating an echo of an existing brand when you can say something about yourself. Maybe a local landmark can become a key piece of your imagery. Alternatively, you create a design based on the flavor profile of your brew, or a mascot that can follow you through the years, appearing on each new variety you produce.
The Details Your Beer Labels Need
Creating a successful craft beer label design means not just designing a compelling graphic identity, but also complying with all relevant regulations. The Alcohol and Tobacco Tax and Trade Bureau (TTB) is the agency in charge of the requirements for beer labels.
TTB rules include a mandatory health warning statement, which must reach specific standards of font size and legibility, depending on the size of the can or beer bottle. That warning statement isn't the only required addition, however.
Other important disclosures on beer labels besides the warning statement include:
The name of your brand.
The beer's class and designation.
Your company name and address.
The beer's country of origin.
The net contents of the container.
The percentage of alcohol content in the beer.
Disclosures if the beer includes food coloring Yellow #5, aspartame, saccharin or sulfites.
Finding space for these elements puts some constraints on your custom beer label design process, though it's not particularly difficult to work around those limitations. After all, every brewery is on a level playing field when it comes to compliance labeling.
How the Ideal Label Printing Partner Helps Create Beer Labels
The quickest and simplest way to create high-quality beer labels is to find the right label printing partner. Lightning Labels has been creating custom label designs for brands of all kinds for over 20 years, using all-digital printers to craft sharp-looking labels for both bottles and cans.
The digital printing methodology enables fast turnaround times and flexible order sizes. Whether you need a few labels for growlers and crowlers in your brewery's taproom or thousands of custom beer bottle labels for a popular new brew, Lightning Labels can become your ideal labeling partner.
If you're struggling to identify ways to transform your brand's identity into compelling visuals, Lightning Labels can help there, too, getting involved in your project early through graphic design services. To discover the packaging possibilities for your brewery, request a free quote now.