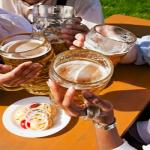 Government Regulations Enhanced Custom Beverage Labels Voluntary
Consumers of legal age may see their favorite alcoholic drink display more nutritional information on custom beverage labels. According to numerous media reports, the government had approved new regulations that would have producers voluntarily include more information on labels.
The U.S. Treasury Department, just one agency responsible for alcohol regulation, said it will now allow beer, wine and spirits businesses to affix new labels that denote serving size, servings per container, calories, carbohydrates, protein and fat per serving, marking it the first time such labels have been approved for alcoholic beverages.
New Custom Beer Bottle Labels a Temporary Fix
In 2007, the Alcohol and Tobacco Trade and Tax Bureau (TTB) had proposed new rules that would allow custom beer bottle labels to include more nutritional information, yet never made the measure a final rule.
While the Treasury Department issued the newest rules, it is widely believed those regulations will act as placeholders until the TTB, which is still currently reviewing input, can develop its own rules.
"This is actually bringing alcoholic beverages into the modern era," Guy Smith, an executive vice president at Diageo, the world's largest distiller, said, according to The Associated Press.
Request your FREE instant quote today.