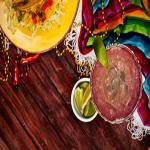 It's Time to Prepare Holiday Labels for the First Week of May
As the end of April draws near, companies should be turning their attention to what next month has in store - and planning holiday labels accordingly. The first week of May includes two holidays: "Star Wars" Day on the 4th (based on the pun "May the 4th be with you") and Cinco de Mayo on the 5th.
It would be tricky to incorporate "Star Wars" into your product labels without falling afoul of licensing laws, but Cinco de Mayo has no such restrictions. The holiday, which is celebrated in the United States and Mexico, commemorates the Mexican army's victory at the Battle of Puebla - a face-off that the French were widely expected to win.
Attract Cinco de Mayo Revelers with Custom Labels
For food and beverage companies - especially those that manufacture alcohol and hot sauce - Cinco de Mayo represents a major sales opportunity, and custom bottle labels can provide an edge in a market that's extremely competitive at this time of year. If you don't think you have the budget or meet the minimum order requirement to deck out your products with high-resolution, professional-looking labels, think again. Lightning Labels offers low minimums and crisp, high-quality custom labels that can compete with those used by the big brands.
Worried about including all the necessary nutritional and instructional information on your bottle labels? Don't be - our small yet readable type will give you the space you need to make your label design as eye-catching as possible while still including all the necessary details. Concerned about how the labels will hold up in the fridge? Our labels are water-resistant, so any splashes or condensation will be like water off a duck's back.
Numerous Material Options Available for Custom Stickers
Whether you're looking for bottle stickers that are shiny or matte, modern or old-style, Lightning Labels can accommodate your needs. If you have a non-standard size or shape in mind, chances are we'll be able to deliver that as well. Additionally, when it comes to bottles, manufacturers have the choice of one large wraparound sticker or two distinct labels, one for the front and one for the back. Some companies only offer one of these options, but not Lightning Labels!
Request your FREE instant quote today.