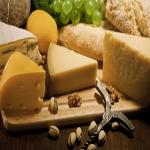 American Cheese-Makers May Have to Change Custom Food Labels
The European Union may deny U.S cheese companies the ability to use European names for cheeses on custom food labels. During trade talks, the EU argued that U.S.-made cheese products are dissimilar to the originals and cut into European sales, The Associated Press reported. The change to food label printing could have a negative impact on U.S. dairy producers, which are part of a $4 billion cheese industry. So far, the EU has yet to elaborate on these proposed regulations, but European Commission spokesman Roger Waite said the issue was an important one for the EU.
US Food Product Labels for Cheese May Soon Bear New Names
If the request should go through, only hard cheeses originating in Parma, Italy, will bear the title of Parmesan on food product labels, Los Angeles Times reported. Other cheese varieties will soon be under consideration for regulation as well. Companies that produce Asiago, Gorgonzola, Feta, Fontina​ and others made in the U.S. may have to find a new name for their cheeses. In addition, the EU could extend the ban to non-cheese products like Greek yogurt, prosciutto and bologna.
Request your FREE instant quote today.