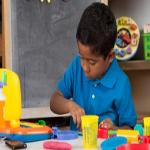 In many homes, December is a month for getting together with the family and exchanging presents - but are the toys and other gifts children receive safe? This is a vital question, and one that manufacturers should ponder when deciding on their labeling strategies. Custom hazard labels can help ensure items aren't used in risky ways, and keep parents and guardians aware of any information they should know.
December has been set aside as Safe Toys and Gifts Month, a formalized way of acknowledging that brand leaders should keep their customers safe and secure with as much information as possible. This doesn't just mean following the letter of the law when it comes to labeling. Complying with all applicable rules is a baseline that companies can expand from, rather than an endpoint to aspire to.
Age Ranges, Warnings and More
Just about any toy can be dangerous if it's picked up by someone too young. Parts that are totally innocuous in the hands of a 10-year-old could be a choking hazard for younger kids, and brands need to be ready to alert parents and guardians as to whether the items they're pondering are right for their children. This is where an important subset of safety labeling, age appropriateness labels, comes in. Safe Toys and Gifts Month serves as a good reminder for brand managers to look over their lines of kids' products to ensure everything has an accurate age range listed on the package.
Once the age range has been specified, brands can be even more specific in warning of different hazards. Choking risk, potentially toxic substances, sharp edges and more may be worthy of warning labels. Leaders worried that their brands may seem less appealing if they offer more safety information should rest easy - adding warning stickers to packages shows that the company cares about keeping customers' kids safe. This is something any audience buying gifts will care deeply about, and one worth taking seriously.
Parents and guardians will only get the information they need if labels are well made and tough enough to survive production, shipping and life on store shelves. A safety label that peels off, fades or otherwise becomes illegible is no good to anyone. This is why it's important to work with a top-quality printing partner to launch new warning labels or stickers.
Lightning Labels Can Help
Companies pondering their strategies for Safe Toys and Gifts Month can look to Lightning Labels for assistance. Warnings and safety information are hugely important, and that means it's good to release new designs as quickly as possible. Lightning Labels lives up to its name with lightning speed, letting companies get new designs in a matter of days, rather than weeks or months. This is due to an all-digital printing process and the use of domestic facilities rather than outsourcing to faraway plants.
Whether organizations are massive in scale or just starting out, there is a Lightning Labels offering that can help. All-digital printing is affordable even at small scales, meaning leaders of all sorts of companies can use Lightning Labels as their warning label partner.
Request your FREE instant quote today.