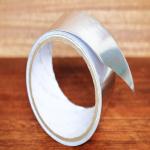 Eye-Catching and Tough, It's Chrome BOPP
Product labels today have to look bold to attract attention among fierce competition. If your products have a look that pops off the shelves, you gain an immediate advantage over brands that have more plain packaging. However, there is a catch - if your labels aren't tough enough to survive store shelves, home storage and the use of the products within, they won't make a strong or positive impression. This is where Chrome BOPP labels come in - when you use this material, you get a shiny, distinctive surface along with all the toughness of a BOPP label.
Advantages of Chrome BOPP
If you're wondering whether Chrome BOPP is the right material for your next order of custom product labels, consider the following benefits:
• A look that amazes: The shiny, reflective surface of a Chrome BOPP label is a step up from simply using ink to simulate silver. If your brand leans heavily on silver or chrome imagery, or is going for a futuristic, clean and refined look, Chrome BOPP can deliver the necessary style. Standing out on shelves is a huge objective, and reflective labels can accomplish that feat.
• Toughness to survive: Items that come into contact with water - or contain oils - are special labeling cases. Standard label materials could weaken and peel off when they get wet, weakening products' appeal in the home and lessening their ability to act as brand advertising over time. Chrome BOPP labels have all the toughness of standard, permanent adhesive BOPP labels and will hold up.
Possible Product Uses
There are a few industries that can get particular value out of custom Chrome BOPP labels. If you're in one of these fields, the value is clear.
• Bath and body: Health and beauty products can make a bold statement with shiny chrome labels. Even when they're stored in a bathroom or frequently exposed to water, bottles will keep their labels due to the toughness of the Chrome BOPP material. This means that once the shampoo, skin cream or any other kind of product runs out, customers will still have your brand's logo shining in front of them to encourage them to buy more.
• Food and beverage: The supermarket is a crowded place, and many shoppers are undecided about what to buy. Catch their eyes with Chrome BOPP labels on food and drinks. Even if the items end up on ice in a cooler, the tough label material will hold together and stay vibrant and shiny.
Other Varieties
Maybe chrome doesn't fit your brand's color scheme or branding strategy. That's no reason to turn down BOPP materials from Lightning Labels, however. You can also work with White BOPP labels, which accommodate any color of ink and let you have your choice of bold imagery, as well as clear BOPP labels, which give you a minimalist look while still letting you present your logo. These labels are available quickly, and in both small and large quantities, depending on the scale of your brand. The advantages of a tough BOPP material are considerable, and the visual flair possible should help you realize your ideas.
Request your FREE instant quote today.