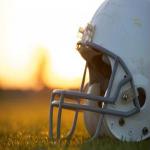 Helmets serve multiple roles, protecting wearers' heads and projecting their pride, whether that's in a sports team, a construction crew or any other group. Well-chosen helmet stickers can help get this latter point across, creating a great visual impression. When designing these custom stickers, you should be sure you're working with a trusted provider to connect you with the best materials, quickest turnaround times and most reliable printing processes.
Helmet stickers are surprisingly versatility. You can start by picking out logo stickers that will stay in place for years to come, then add award stickers that will help players or employees show off their accomplishments. The following are a few tips to keep in mind when ordering these different types of stickers.
Logo Helmet Stickers for Sports, Construction and More
Outfitting a baseball or football team means purchasing top-quality helmets to keep your players' heads safe. But once you've gotten helmets that comply with safety rules and policies, how will you decorate them? This is where strong, vinyl helmet stickers can make their mark. Turning your bold, high-resolution team logo into a long-lasting helmet decal is a great investment, one that will stay for seasons to come and make your squad look professional on the field.
Of course, situations beyond the sports world also call for good helmet etiquette. Construction workers and employees in roles at warehouses and other industrial facilities need protective headwear to comply with safety regulations. Here, too, logo stickers can make a positive impression. Great-looking, high-resolution helmet stickers can boost company branding and employee pride.
There are a few traits you should look for whether you're buying football helmet decals, construction hard hat stickers or any other kind of custom helmet stickers. First, it pays to ensure your sticker printing partner offers flexible order sizes, so you don't have to over-order and waste funds. Second, you should seek out only high-quality, durable materials and adhesives. The longer your helmet decals last, the less often you have to spend to replace them. Third, it's a good idea to check proofs of your stickers before finalizing the order, to make sure they do your logo justice.
Award Stickers to Commemorate Accomplishments
A permanent logo on the front or sides of a helmet is not the only kind of decoration your players or employees may want. You can also offer smaller stickers that get added to the helmet to commemorate an event. Football players can mark up their helmets for touchdowns, sacks or interceptions. Baseball players can add stickers to their helmets for home runs. Teams of any kind could find it fun to celebrate every win in a season or tournament with a new sticker.
On the professional side, employees who have long tenure with a company, or receive special certification or recognition, can add stickers to their helmets as well. This can help workers take pride in their accomplishments and show off their expertise.
Award stickers don't have to be as strong as logo decals, especially in the realm of sports. If you're a high school coach who plans on reusing helmets next year, you can make sure your award stickers are made with removable adhesive so next year's team members can start from scratch commemorating their own achievements.
Stickers Made by Experts
When you choose Lightning Labels as your sticker printing partner, you can be sure the finished helmet decals will be sharp-looking and tough, made from high-quality materials and produced quickly. The all-digital printing methods Lightning Labels uses allow for flexible ordering, so you never have to be stuck with too many decals. Weather you're in sports or heavy industry, these helmet decals will look great on your people.
Request your FREE instant quote today.