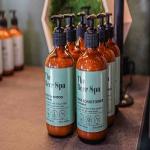 From soaking to sipping, beer and all the effervescence it produces is the order of the day—and night—at The Beer Spa in Denver, CO.
Open since February in Denver's historic Five Points neighborhood, The Beer Spa was founded by husband and wife team, Jessica French and Damien Zouaoui.
The idea for a high-tech wellness space that combines a day spa and a taproom came to life in the mountain town of Zakopane, Poland. To escape from the rain, the couple ducked into a "beer spa." They became intrigued with the idea of pairing soaking in a warm, bubbly beer bath while sipping on cold Polish brew. As their website notes, "This combined so many things they are passionate about – wellness, craft beer, and bringing people together – and it was executed in such a unique way."
Determined to see the idea come to fruition, the couple spent months exploring spa and bathing cultures and facilities in such places as Budapest, South Korea and Japan. Ultimately, they landed in Denver and began turning the dream into reality. Their state-of-the-art establishment features private, cozy lounge-type rooms, fully disinfected and cleaned between uses. Also in evidence are fully robotic massage chairs, an homage to the safety consciousness inspired by the pandemic. "Everything is well suited for social distancing and cleanliness," the couple points out.
Initially, word-of-mouth, tours featuring neighbors, and building banners drove traffic, then social media started spreading the word on steroids. The website gathered 3,000 email addresses pre-launch. Soon area movers and shakers, including other brewers, checked it out and further spread the word. Since opening, The Beer Spa has been fully booked much of the time.
A 170 square-foot "beer therapy room" with cedar hydrotherapy tub, full-spectrum infrared sauna, rain shower, and relaxation deck runs $159 for a 90-minute session that can accommodate up to two people. Insulated tumblers help keep beverages brought into the room cold, even when in the sauna.
It's a truly effervescent experience.
Relationship with Lightning Labels, the craft beer and cosmetics digital printing specialist
Damien points out, "I vetted eight label suppliers for our private label beer cosmetic product line, including beer body lotion and wash. We wanted high quality, professional label printing with really crisp, clean graphics, colors and material. We got samples from different places, and were shocked that some labels looked homemade. Lightning Labels' quality and pricing blew them out of the water. They were the only company that consistently followed up with me. They were transparent about the process and had heavily invested in CRM and automated systems, which their competitors hadn't done. In the end, it was easy to go with Lightning Labels."
Request your FREE instant quote today.