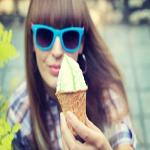 Product Labels Give 'Flavors of the Month' Their Own Unique Spin
Product labels can help customers differentiate between unique products. A unique label can help catch the customer's attention and allow the product in question to stand out among its counterparts.
For ice cream producers, unique product labels can help them advertise fun and unique flavors. Several famous ice cream brands periodically create new flavors in light of different holidays or to observe current events. For example, Baskin-Robbins recently rolled out a special Oreo and Cake Batter flavor for National Ice Cream month.
A specially designed product label can help the company promote the brand in grocery store freezers. If people see they can only get one flavor for a specific time, they may be more willing to try it now since they know they only have a limited time to get it. Labels promoting limited-time offers may also prompt more repeat purchases over a specific time frame.
Print Ice Cream Labels Quickly and For Any Occasion
Of course, if ice cream producers are going to release special flavors in monthly promotional events, it is important they leverage ice cream labels quickly and efficiently. After all, there is not much point in promoting "flavors of the month" if producers fail to get their labels in time for promotions.
By utilizing a custom food label printing company such as Lightning Labels, ice cream producers and sellers can get their labels printed quickly. This ensures they always have their labels in time, regardless of whether they are selling a monthly flavor or creating a flavor for specific holidays and events, such as Independence Day.
Cold Proof Labels Preserve Designs
The frigid depths of freezers may not be friendly to many product labels, but cold proof labels can help prevent much of the damage these adverse conditions could cause. This is paramount for ice cream sold in stores - customers want to know what flavors they are buying, but if they can't read the label, they may not make the purchase. These labels may also improve productivity at ice cream shops - people won't be left searching in the backroom for the right flavor because they can't discern one from the other.
"Flavor of the month" promotions are an effective way to boost sales and offer customers a special treat, the right labels will help ice cream producers present these special flavors in an entertaining way.
Request your FREE instant quote today.