Printing Flashy Labels Gets Consumer Attention
[caption id="attachment_8358" align="alignleft" width="300"]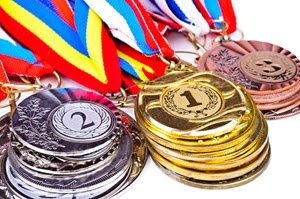 Printing flashy labels can remind consumers of awards and medals.[/caption]
Printing flashy labels is a good way to catch the shopper's eye. Using silver or gold labels is a sure-fire way to break the monotony of the store shelf. When you're introducing a new product, design or recipe, a metallic shine is a great way to let shoppers know that something is different. For instance, if you have introduced new easy-to-recycle packaging, a silver sticker is a great way to communicate this to shoppers. Especially in the food aisle, most shoppers won't be expecting to see shimmering packaging. In situations where consumers make decisions quickly, using a metallic finish can give products an edge simply by way of being eye-catching. Best of all, metallics, particularly silver, tend to look good with many different colors. This means you can integrate a little sparkle into your labeling strategy without having to overhaul your branding. You can also take advantage of the unique connotations that metallic finishes have when designing labels and stickers.
Gold Labels Can be Used Strategically
Using silver or gold labels makes items appear luxurious and valuable. When most people think of awards and accolades, they usually come with a metallic ribbon or statue. Gold, silver and bronze remind us of winners. Particularly, if your brand has won a taste test, or your company has received some other award, a metallic sticker can more successfully draw attention to this fact than a regular color might. It will also lend a bit more credibility to the claim of being award-winning. Metallics have other connotations as well. Traditionally, they are expensive. Kings and queens adorned themselves in silver and gold. This means adding a metallic sheen can be reminiscent of value and sophistication.
Metal Colored Labels Make Products Look High-Tech
Metal colored labels can be be integrated with other innovative packaging ideas. Metallics have other connotations in the digital age. While they can bring to mind old-school royalty, when implemented with a slightly different color scheme, they can seem tech-savvy. When used with black or gray, silver labels can make packaging take on a futuristic appearance, perfect for any brand that wants to appear ahead of the curve in their industry. Metallics are also a good way to make body product packaging more appealing for male shoppers. Silver and chrome are also reminiscent of speed and efficiency because they bring to mind cars, trains and airplanes.
Use Metallic Labels Creatively
On top of sending a message, metallics are simply attractive and often more interesting to look at than the average packaging material. They can be eye-catching, but they can also create unique labeling that brings greater attention to your brand's innovative perspective. You can print on top of a silver label in more subtle ways. For example, a refreshing drink company could use silver to portray a crisp lake or body of water on a label. This could also work for snowscapes, or images of cities. No matter what your labeling ideas, metallics can be integrated in refreshing ways.