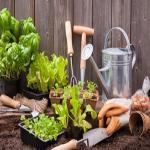 Garden Ideas, Activity Bloom in Summer
The summer is truly the time when horticultural enthusiasts go into high gear, turning their garden ideas into reality. As the saying goes, "Gardening is cheaper than therapy - and you get tomatoes," but just how widespread a hobby is horticulture?
According to the most recent edition of the Garden Writers Association Foundation's Gardening Trends Research Report, released in October of last year, 58 percent of consumers who hailed from the nation's 75 million "gardening households" planned to grow edible plants in 2015. One-quarter expected to grow edible plants in the ground, 9 percent anticipated using containers and 24 percent said they would do both.
Moreover, the United States Bureau of Labor Statistics' American Time Use Survey - the results of which were released last month - revealed that 11 percent of men and 8 percent of women engaged in lawn and garden care on an average day in 2014. Clearly, gardening is a major hobby of many residents of the U.S., and the way they use custom labels to keep track of their crops could make or break the success of their efforts.
Why Are Garden Labels So Important?
During the summer months, many of the flowers, shrubs and produce planted earlier in the year begin to flourish, and the empty plots set aside for the height of the season can finally be populated. With all of the planting, growing and fertilizing going on, it's critical to have garden labels in play to keep tabs on exactly where everything is located. After all, one patch of soil looks the same as another, so getting visual clues from nature won't be an option until much later in the growing process.
Many gardeners whose systems of assigning produce and flower labels have let them down in the past know all too well that once something's in the ground, the only non-intrusive way to figure out what it is requires an enormous amount of patience - namely, waiting for it to grow. Until then, there isn't a lot gardeners can do except make educated guesses about whether the seeds beneath the soil will flourish into lettuce or forget-me-nots. Needless to say, this approach is far from ideal and should be avoided whenever possible.
Enjoy Gardening Success With the Help of Custom Stickers and Labels
To save money and minimize fuss, many gardeners take a do-it-yourself approach to making custom stickers and labels. Over time, rainfall, spray from the hose, pesticides and other chemical treatments to enhance growth and ward off bugs can affect legibility, so green-thumbed individuals are better off seeking the help of label experts like Lightning Labels.
At Lightning Labels, we offer a range of different label materials, finishes and laminates to ensure growers are able to tell apart the contents of their plots throughout the summer months and beyond. Thanks to our low minimums, gardeners can keep costs down without having to compromise the quality of identifying labels, thereby ensuring they know exactly what's growing where all year long.
Request your FREE instant quote today.