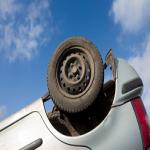 Gov. Conditionally Vetoes Custom Stickers Law, Has Issue With Funding
Custom stickers are increasingly being used in new and innovative ways. One such example of this is in New Jersey, where recently introduced state legislation would implement a new program wherein car drivers can affix stickers to their rear windshields to assist first responders in the event of an accident.
Gov. Chris Christie actually vetoed the legislation, but far from opposing the idea of stickers, he maintained they should not be funded by taxpayer dollars, as the bill in its current format would have stipulated. As a reference for how the sticker program could work, Christie pointed to Mount Laurel, where the program is funded through a nonprofit organization.
Printed Labels and Stickers Alert Responders To Medical Information
Known as the Yellow Dot Program, Mount Laurel motorists can affix printed labels and stickers to their rear windshield to direct first responders to check the glove compartment for information that would prove vital in handling a crash.
Motorists involved in the program are provided a supplemental yellow folder that contains known medical conditions, recent surgeries, allergies, medications, preferred hospitals and emergency contact information.
City officials told NewsWorks they had distributed 3,000 stickers and folders since the program's inception in 2011.
Request your FREE instant quote today.