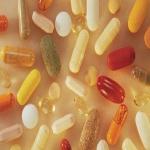 Design Your Own Labels in Time for Cold and Flu Season
If your business manufactures vitamins and supplements, you can design your own labels to take advantage of an important sales opportunity in the coming months. While fall is most often associated holidays, cold-weather festivities and preparations for winter, it can also signal the beginning of a different kind of season: cold and flu season.
The flu epidemic hits every year, and according to the Centers for Disease Control and Prevention, it's practically impossible to determine how severely the virus will spread. While flu season usually reaches its peak in January or February, an outbreak can occur as early as October and the epidemic can continue through May. Because last year's flu season was particularly harsh, consumers are likely more conscious of the disease than ever before. People are shopping for products that can help them maintain good health, and custom vitamin labels that are unique and informative can make your products stand out from competitors.
In late January, a contributor for Forbes pointed out how the strong flu season was an incredible sales period for pharmacies and over-the-counter cough- and cold-product makers. Whether you make full-spectrum multivitamins or sell herbal supplements aimed at improving immune systems, you can achieve similar results this year by marketing your products effectively with custom labels.
3 Tips for Designing Custom Vitamin Labels
While your products may be small, likely the amount of information you want to provide consumers is not. Maximize the space your product packaging provides with custom vitamin labels that reflect your brand's quality, as well as your products' preventative or healing powers. Here are three tips to consider when creating custom labels for vitamins and supplements:
1. Partner with a Label-Printing Expert to Create Vitamin Bottle Labels:
Especially if you're designing labels yourself, it's important to work with a label printer that can accommodate all of your needs. Lightning Labels has extensive experience with vitamin bottle labels and offers several reliable label material options, including removable and squeezable ones, as well as various polypropylene options. Additionally, our diversity of label shapes and sizes are sure to match all items in your product suite.
2. Strive for Quality with Labels for Vitamins:
The vitamin and supplement market is large, and as cold and flu season approaches, competition will be particularly aggressive in the coming months. You need a custom label that stands out to ensure your goods don't blend in with the rest of the products on store shelves. Lightning Labels digital printing ensures your design looks professional and reflects the quality of your ingredients. We offer a seemingly infinite range of colors to choose from and our printing process captures even the most minute details in designs to create labels that are a cut above those on competitors' goods.
3. Set Your Products Apart with Custom Label Printing:
While a quality label can help your products stand out on store shelves, you need a design that captures shoppers' attention. Whether you're looking to market your offerings temporarily for cold and flu season or are seeking new long-term product packaging, it's important to know what your competitors are doing e then head in a more innovative direction. For example, in addition to listing ingredients, consider explaining how the most active ones can help boost immunity or soothe cold symptoms. For vitamins aimed at children, you can add cartoon graphics fun facts. With Lightning Labels' labeling solutions and printing service, your options for how to design labels to create something unique are limitless.
Request your FREE instant quote today.