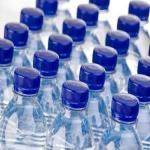 Water is extremely welcome to a weary customer, and when custom water bottles have your brand's logo on them, you can gain extra visibility for your company. There's no wrong time to hand out free bottles of water, but a few moments stand out as particularly opportune. For instance, at a trade show or other well-attended event, you can simultaneously quench attendees' thirst and make a marketing splash with custom water bottle labels.
Reaching out to walk-in customers and event attendees involves making your brand's logo and messaging visible in a sea of distractions. By attaching your business's name and identity to something people will be happy to carry with them - their refreshing water - you're creating a path through the visual clutter.
One-off Events or Continuous Service
Whether you want water bottle labels to be a permanent part of your business's physical marketing strategy or you're targeting a single big event on the calendar, turning water into an attractive and functional giveaway may act as a shortcut to more brand exposure. If your company is hosting an event, in or out of your headquarters, custom water for guests adds professionalism. At a trade show or other industry showcase, the bottles can act as a highly useful piece of "swag" to hand out.
While giveaways such as pens, bottle openers or other pieces of branded merchandise may entice show attendees, water is even more obviously useful. After a day of walking around, people will be happy to have some refreshing water, and will, therefore, encounter your custom labels.
Orders of Any Size
Depending on your company's water bottle use case, you may need a huge quantity of custom water bottle labels or only a few. Due to our all-digital printing methods, Lightning Labels is able to offer low minimum order sizes, meaning you can buy the amount you need at the moment, whatever that may entail.
Request your FREE instant quote today.