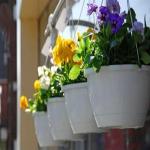 Spring, the season of growth and renewal, is right around the corner. This is a great time to put a revised spin on your brand's visual identity, whether it's a temporary look or a permanent style. Custom product labels emblazoned with a new logo or focusing on bright and positive springtime colors could add a little excitement to store shelves or online marketplaces and make your products irresistible to curious buyers.
The one major caveat about a brand refresh is that this process can't be handled carelessly. Your audience will notice if products' new look isn't up to the standards they expect, meaning your spring cleaning must involve high-quality labels and carefully considered visual designs. With the right labeling partner, you can bring your brand into the warmer months looking better than ever.
Time for a Refresh?
There's no wrong season for a redesign of a company's look, provided the latest version is a marked improvement on what came before. With that said, spring is an especially good time to change up product labels. The retail madness of the winter holidays is in the rearview, and people are focusing on fresh starts. Homes and yards are getting a good cleaning, and consumers may gravitate to products that capture the refreshed feeling of spring.
Seasonal custom labels can be a canny marketing tool, especially if your brand makes products that are especially important or useful in springtime. Companies that make gardening tools and plant seeds, for example, may have a great deal of success changing their branding for March, April, and May. These months can also be a great time to roll out a permanent new look that will last all year.
Ordering High-Quality Labels Quickly
Once your brand locks in a compelling new label design, you won't want to wait too long to get the packaging printed. With Lightning Labels, you don't have to wait - domestic production facilities using all-digital printing methods turn orders around quickly.
Request your FREE instant quote today.