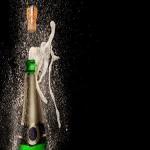 Custom wine bottle labels are a great way to put your vineyard's personality in front of prospective buyers. Whether you hope to evoke a chic, modern feeling or lay claim to a long and illustrious lineage, custom wine bottle labels can get that message across. Now, with the holiday season coming up, it's time to consider strategies going into the end of the year. A new set of custom bottle labels could help your vineyard finish the year on a strong note.
Celebrating with Chilled Wines
If you sell wines that are best served chilled, especially Champagne-style varieties, festivities around the holiday season in general provide a great sales and marketing opportunity. You have a few different possible avenues to take when redesigning labels for chilled wine. For example, you can explicitly create designs aimed at holiday buyers and mention the season, or you can simply create a classy year-round look that will stay relevant beyond New Year's Day.
No matter which approach you select, brand identity matters. If the materials and design elements you choose match your preferred branding, you may get a strong positive response from consumers. This could mean using a rustic, paper-based material with no laminated finish or a sleek and modern polymer with a matte finish. The key factor involves ensuring that your bottles stand out from competitors' and make a case for themselves.
It's Not Too Late
While it may seem that the holiday season is already beginning, there is still time to print new custom labels for the end of the year. Lightning Labels employs all-digital printing that allows customers to receive their orders in a matter of days, not weeks or months. With Lightning Labels on your side, you can make your wines a hit at New Year's parties and other festivities throughout the holiday season.
Request your FREE instant quote today.