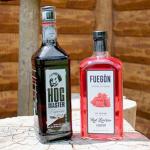 Sweet and sassy Carr Spirits is marketing a variety of eclectic spirits—the flagship Adelaide's® Dreamsicle™ brand, Fuegón® The Original Red-licorice Liqueur™, and Hog Master® Herbal Liquor.
Tom Carr, chairman, founder and CEO notes that, "The launch of the Adelaide's Dreamsicle brand brings an important cream liqueur family to the market. These flavors are blended in the USA…The family currently includes Orange Wine Cream, Caramel Mocha Mojo Liqueur and Coconut Liqueur with new unique flavor extensions in both the liqueur and wine cream categories coming throughout 2017.
Starting with Adelaide's only in Colorado, Nebraska-based Carr Spirits is now in 18 states, chiefly as a result of marketing to both independent and chain retailers. Adelaide's Mint Chocolate Chip and Adelaide's Dragon Fruit are next up on the launch pad.
The all-natural, gluten-free, and kosher offerings have proven popular at tasting events, trade shows, and event marketing. According to Tom, Adelaide's in particular has fared well in competitive venues where we have "a chance to shine." This has helped drive positive word-of-mouth and consumer engagement.
Tom began his career in the beverage industry immediately after graduation from the University of Southern California. Tom's career involved senior management positions at The E&J Gallo Winery, The Paddington Corporation, IDV/Diageo, Luxco, Margaritaville and Sazerac. After 31 years in the industry, Tom decided to form his own company, by purchasing Fuegon® and joint venturing with the Hog Master® parent company.
Relationship with Lightning Labels, the Beverage Label Specialist
Tom places high value on the contribution of his beverage labels to product success. He notes, "To me, Adelaide's is all about the taste, the ingredients, the family aspect and none of that matters if the label is not appealing.  We need to have the consumer look at the bottle on the shelf and think 'that looks good…I need to try this.'  That does not happen if the label is not appealing.  As far as Lightning Labels' performance, from the first time I met Randy at his office and we put the first label on by hand, through today, the performance, the professionalism, the interaction, the partnership, has been without issue.  Absolutely amazing partner for us and Randy and the entire team are top notch."
Request your FREE instant quote today.